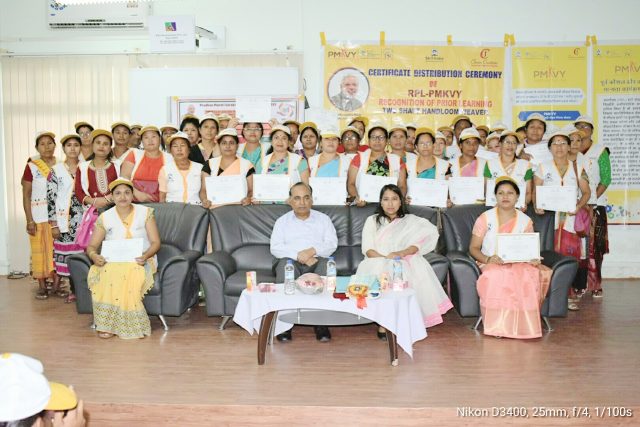 2nd August 2018 : Pradhan Mantri Kaushal Vikas Yojana (PMKVY) is the flagship outcome-based skill training scheme of the new Ministry of Skill Development & Entrepreneurship (MSDE). This skill certification and reward scheme aims to enable and mobilize a large number of Indian youth to take up skill training and become employable and earn their livelihood.
Under this scheme, Chanu Creations, Thangmeiband, Imphal has trained RPL-PMKVY training to 183 beneficiaries including 8 male weavers in Nirjuli, Papum Pare District of Arunachal Pradesh from 10th May, 2018 to 13th May, 2018 as Project Implementing Agency (PIA) under National Skill Development Corporation (NSDC). There were 4 batches in total. The assessment of the trainees was conducted by assessment agency namely India Skills Pvt. Ltd., New Delhi on dated 12th May, 2018 and 14th May, 2018 respectively.
Today the 2nd August, 2018 Chanu Creations organised the certification ceremony function of the RPL-PMKVY certified trainees for Papum Pare District at ET Cell Auditorium Hall in North Eastern Regional Institute of Science and Technology (NERIST), Itanagar.
Shri H.S. Yadav Director NERIST (Itanagar), Smt. Chirom Indira (National Awardee 2015, Nari Shakti Puraskar Awardee 2017, DMA All India Women Entrepreneurs Awardee 2018 & Vasundhara Hall of Fame Awardee 2018) Proprietor/CEO of Chanu Creations and Shri W. Joyshankar Luwang Project Manager of Chanu Creations were grace the function as Chief Guest, President and Guest of Honour respectively.