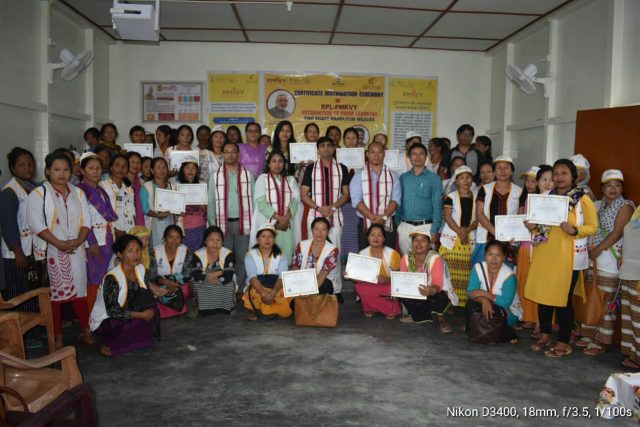 29th July 2018 : Pradhan Mantri Kaushal Vikas Yojana (PMKVY) is the flagship scheme of the Ministry of Skill Development & Entrepreneurship (MSDE). The objective of this Skill Certification Scheme is to enable a large number of Indian youth to take up industry-relevant skill training that will help them in securing a better livelihood. Individuals with prior learning experience or skills will also be assessed and certified under Recognition of Prior Learning (RPL).
In continuation of Certification Programme under RPL-PMKVY, Chanu Creations has organised Certificate Distribution Ceremony to the successful trainees of RPL-PMKVY in Lower Dibang Valley District, Arunachal Pradesh in collaboration with AMYAA NGO on dated 28th July, 2018 at AMYAA NGO training hall, Mayu-II, Roing, Lower Dibang Valley District, Arunachal Pradesh.
Chanu Creations, Thangmeiband, Imphal is implementing Recognition of Prior Learning (RPL) training on the Job Role ''Two Shaft Handloom Weaver'' under Pradhan Mantri Kaushal Vikas Yojana (PMKVY) to entire North Eastern States of India as Project Implementing Agency (PIA). Under this scheme, Chanu Creations has trained RPL-PMKVY skill training to 195 beneficiaries in Lower Dibang Valley District of Arunachal Pradesh.
Shri Sanjay Kumar Sain, IPS, SP Roing, Smt. Chirom Indira (National Awardee 2015, Nari Shakti Puraskar Awardee 2017, DMA All India Women Entrepreneurs Awardee 2018 & Vasundhara Hall of Fame Awardee 2018) Proprietor/CEO Chanu Creations, Shri RK Paul Chawang, Secretary Amyaa NGO and Shri W. Joyshankar Luwang, Project Manager Chanu Creations were grace the function as Chief Guest, President and Guest of Honours respectively.
Recognition of Prior Learning (RPL) is a platform to provide recognition to the informal learning or learning through work to get equal acceptance as the formal levels of education. In short, RPL is a process of assessment of an individual's prior learning to give due importance to learning as an outcome rather than learning as process. Under PMKVY, special focus is given to RPL by recognizing prior competencies of the assessed candidates and provides a certificate and monetary reward on successful completion of assessments. RPL also shows them a path to bridge their current knowledge and skill levels to reach a competency level or go for higher skills for professional growth.