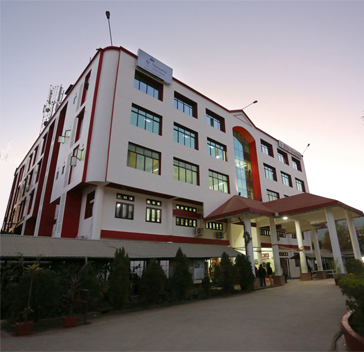 In a significant milestone for the Eye Care services of the state, Shija Hospitals and Research Institute has been granted the certificate of registration under Section 14 & 15 of the Transplantation of the Human Organs (Amendment) Act 2011 for Cornea Transplantation on 22nd April 2016.
Now patients requiring corneal transplant can undergo the surgery in the state. Corneal transplant is an operation to remove all or part of the damaged cornea and replace it with a healthy donor cornea. The surgery is helpful to improve sight, relieve pain and treat severe infection or damage and retain the integrity of the eye ball.
The sourcing of cornea for surgery is done through a Cornea Distribution System (CDS) which is under the Eye Bank Association of India (EBAI) and Sightlife. Any patient requiring corneal transplant can either directly approach or be referred to the surgeons of the recognized centre. After due examination, the surgeon ascertains the required tissue and forwards the requirement to the CDS. CDS on receipt of the requisition does matching of the cornea and informs the surgeon about the available tissues. On confirmation from the surgeon it is shipped to the transplant center where patient undergoes the surgery.
It is a significant milestone for the state of Manipur that corneal transplant can now be done at the doorstep. Directorate of Health Services, Govt. of Manipur after due diligence granted the registration to Shija Hospitals and Research Institute. The management of Shija Eye Care Foundation is thankful to the Director, Directorate of Health Services for understanding the need of the people and taking the step proactively.
Since the granting of registration certificate, 3 patients have already undergone corneal transplant surgery with tissue sourced from different Eye Banks of India through the CDS. The first patient was diagnosed with left eye vascularised corneal opacity and the second with left eye perforated corneal ulcer, both underwent corneal transplant on 30th April 2016. The third patient had irreversible blindness in the left eye and his only functional right eye was diagnosed with perforated corneal ulcer, he underwent corneal transplant surgery with cataract removal for right eye on 4th May 2016