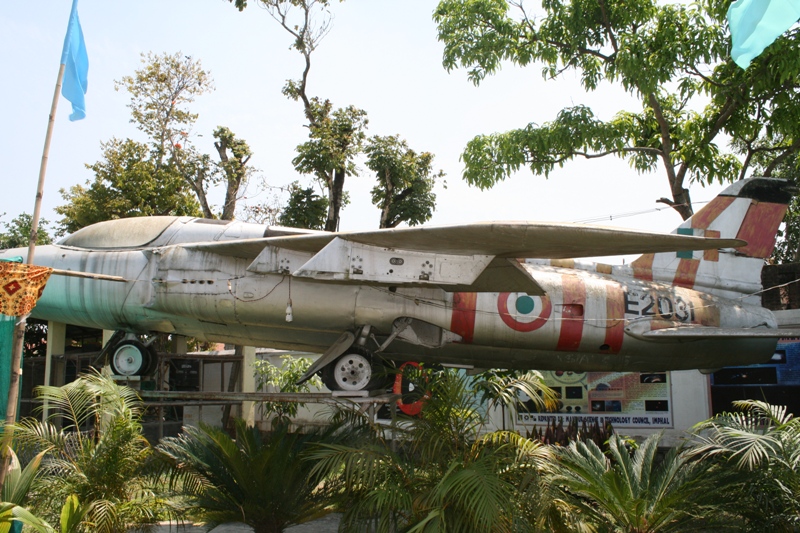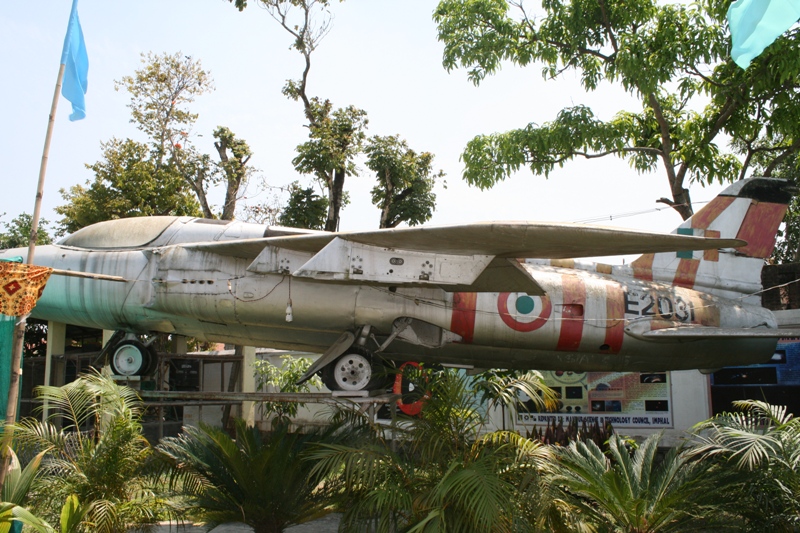 Historical Antic 'IAF Gnat fighter aircraft' being placed at the Manipur Science Aquarium located inside DM College campus under the aegis of Science and Techno-logy Department, Government of Manipur has been a point of attraction for the people, the school going students in particular visiting the Science Aquarium. Earlier, this Aircraft was kept for display at the western gate of Kangla under the supervision of Archeology Department and Kangla Fort for several years. It was shifted to Manipur Science Emporium inside DM College campus in March 2011 is being supervised by the officials of Manipur Science and Technology Council, MASTEC. 
The plane was created by William Edward Willoughby petter, a bristish aircraft designer . The Folland prototype first flew on 18 July 1955 from Boscombo Down, England
Operational History in India:-
First 13 aircrafts for the Indan Airforce were assembled at Hamble, England and then developed as Hindustan Aircraft at Hindustan Aeronautics Limited, Bangalore. First flight of an Indian Air Force Gnat was in the United Kingdom on the 11 January 1958. It was delivered to India on the 30 January 1958. First Aircraft built from Indian built parts first flew in May 1962. The last Indian built Gnat F.1 was delivered on 31 January 1974.
Major Achievement:-
Indo-Pakistan War, 1965 – Serving Primarily with the Indian Air Force, the Gnat shot down seven Pakistani Canadair sabres in the 1965 war. Pakistan Air Force claims only three Gnat victories in air to air combat. During the initial phase of the 1965 war, an IAF Gnat, piloted by Squadron leader Brij Pal Singh, landed at an abandoned Pakistan airtrip at Pasrur and was captured by the PAF. This Gnat is displayed as a war trophy in the Pakistan Air Force Museum, Karachi. After the ceasefire, one Pakistani Cessna 0-1 was shot down on December 1965 by a Gnat.
Indo-Pakistan war, 1971:- Gnats were used again by India in the Indo-Pakistan war, 1971 against Pakistan. The most notable action was the battle of Boyra, east Pakistan (present day Bangaladesh). IAF Gnats downed two PAF Canadair sabre in minutes and badly damaged one. Another notable action involving a Gnat was over Srinagar airfield where a lone Indian polot held out against six sabres. Gnat pilot Nirmal jit Singh Sekhon was posthumously honoured with Param Vir Chakra(India's highest gallantry award) on 26 january 1972.
Gnat was referred to as a sabre slayer by the Indian Air Force since most of its combat kills during the two wars were against sabres. Apart from air defence operations, the aircraft performed multiple roles in the Bangalesdh Liberation war, being used in anti-shipping operations, ground attack, bomber/transport escort and the more sophisticated Pakistani-flown aircraft was viewd as a significant achievement.
After 1971:- IAF was impressed by the Gnat's performance in the two wars, but the aircraft had problems including hydraulics and unreliable control systems. To address these issues, IAF issued requirement for an improved Gnat-II in 1972, at first specifying that the new version was to be optimized as an interceptor, but then expanding the specification to include the ground attack role. Over 175 of the Hindustan Aeronautics Limited built licensed version, the Ajeet (Unconquerable) were produced in Bangalore, while about 40 were purchased directly from Folland. Gnats served in India from 1958 to 1978, and several remain in use in private hands. Some IAF Gnats, one of which had participated in the 1971 war in east Pakistan (Bangaladesh) were presented to the Bagaladesh Air Force.
Gnat's General Characteristics :-
Crew  – 1, Length – 9.04 m (29 ft 7 in), Height – 2.46 m (8 ft 1 in), Wingspan – 6.73 m (22 ft 1 in), Wing area – 12.69 square metre, Empty weight – 2,307 kg, Loaded weight – 3,539, Max. take off weight – 4,173 kg
Performance
Maximum speed – 1,152 km/h, combat radius – 172 km, service ceiling – 13,720 m, climb upto 12,000 m
Armament
Guns – 2×30 mm ADEN cannons with 90 rounds each, Bombs – Upto 1984 lb (900 kg) of external stores on four underwing hard points.