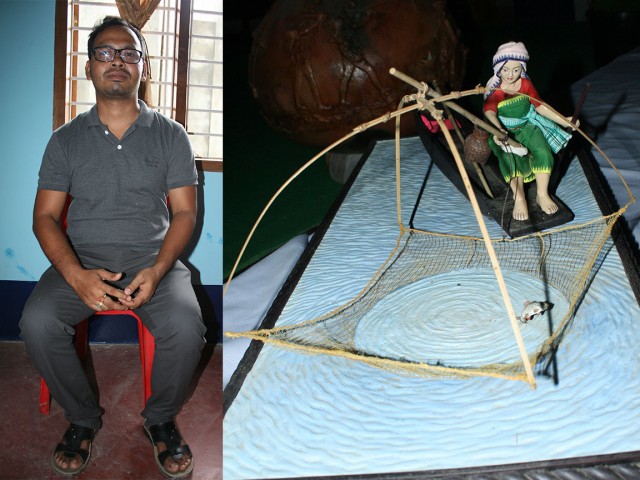 Manipur is a mosaic of traditions and cultural patterns. In the field of art and culture, the State is famous for its classical and folk-dance forms.  Apart from sports and culture, the state is globally known for its handicrafts, an important highly labour-intensive cottage based and decentralized traditional Industry. It has its own unique identity amongst the various crafts of the country. Handicraft industry can generate self employment to the rural artisans. Many hundreds of local artisans in the state are eking out a living with adopting various handicrafts like artistic textile, woollen shoes, Kouna craft, cane and bamboo, sculpture works etc. Among these crafts, doll making craft has become a thriving and lucrative business for many artisans.
Beginning of his doll making craft
Thirty five years old Oinam Ibotombi, son of Oinam Chaoba and Oinam Ongbi Ahanbi Devi of Kakwa Nameirakpam Leilkai began the craft since 2009. With some financial support from his saving, he purchased materials like cotton, threads and needles, straw, colour sheets, ribbons, beads and other decorating items to start his doll making venture.
Ibotombi is the fifth son among seven siblings of four sons and three daughters in the family. He had a great passion in fine arts painting since his childhood days. He completed diploma in fine arts from Imphal Art College. He also learnt the art of doll making from Oja Ibomcha of Kongba Nandeibam Leikai. He passed matriculation from Kakwa high school.
A skilled wood sculpture too
Craft talent of Artisan Ibomcha is not limited to only doll making. He also makes various items of wood carving art as he inherited the craft from his carpenter father.  His interest in wood carving started from a tender age when he used to keenly watch his carpenter father making various designs of wood sculptures at home. It highly impressed the young Ibomcha that he began making of wood sculptures with the skill he inherited from his father.
He makes dolls of varied size ranging from small sizes to life sizes. Bamboo, sponges, threads and different clothes are the raw materials required for making dolls. To his credit, Ibotombi has designed life size dolls of 9 ft to 11 ft height which he sells at the rate of Rs 1000 to 1500.
The price of his dolls ranges from Rs 500 and Rs 8000 according to the designs, size, labour and time incurred in giving a finishing touch to it. "I can make 15 dolls in a month. It has been a thriving business now as it can help me maintain my family with the income from selling dolls," he said.
Varied Dolls showcasing indigenous culture
Dolls made by Ibomcha mostly showcase the Manipuri culture and tradition. Dolls depicting Meetei-Pung Cholom, Dancing Meetei Maibi, Khamba-Thoibi, Sandrembi-Chaishra, Radha-Krishna, Mother carrying her baby on back, Bor-Keina, Ras-Lila, Ningol Chakouba, Goddess Laxmi, Durga, Fishing, Manipuri women selling vegetables are some of the dolls he makes. It is not exaggerated to say that his crafts are unique.  The Artisan continues to incorporate new innovative ideas in the craft to attract customers.
Awards and Achievement
In recognition of the contribution made by Artisan towards promoting Manipur handicrafts, state commerce and Industries department has conferred him with merit award twice. Recently, the Artisan was honoured with state award 2015 by the state commerce and industries department in a function held at Lamyanba Shanglen, palace compound.
"I was very happy to receive the award for the fact that government has finally recognised my work. Such incentive has rather motivated me to go on the craft. Artisans are also contributing their share to popularise the state globally. However, they are struggling for survival with the meagre income from their job. I would like to appeal to the government to take up some welfare measures for the promotion of the local Artisans", he said.
There was a time when Manipur's doll-making craft was very popular not just among locals but also among tourists visiting the State. But the arrival of designer dolls and imported electronic toys has brought it to the verge of extinction. But thanks to the resilience of committed Manipuri artists like Oinam Ibomcha, the Manipuri doll making is surviving despite a struggling phase.
He provides training to youths
Ibomcha, who describes these dolls as a reflection of the traditional art and culture of the State, wants to give training to large number of youths to carry the legacy of the art as well as providing self employment.
Without any government support Ibomcha is also providing training to some local youth in this craft. Though, these dolls have a demand in the market, production has fallen drastically as less number of people today choose this as a career.
"I face the difficulty that the demand is very high but the product is low so now I want to give training to the youngsters to produce more and more products that I can fulfil the demands," he said.
 Message to youngsters
Many youngsters in the state are running from pillar to post to find a government job. They fail to look out for other earning opportunities despite there are ample of jobs. Finding a white collar job will give a decent living is the general concept running in the minds of the people in the state. We need to change this concept. I would like to appeal to our youngsters come and join me and live as a craftsman and to show the crafts outside. If we have work culture, we have many ways to earn.  I am planning to expand my business so as to provide employment to many others. I want to help others by providing jobs. My firm is open to all those who wish to work genuinely" he said.
[ecwid widgets="productbrowser search minicart" categories_per_row="3″ grid="10,3″ list="60″ table="60″ default_category_id="20778902″ category_view="grid" search_view="list" minicart_layout="MiniAttachToProductBrowser"]