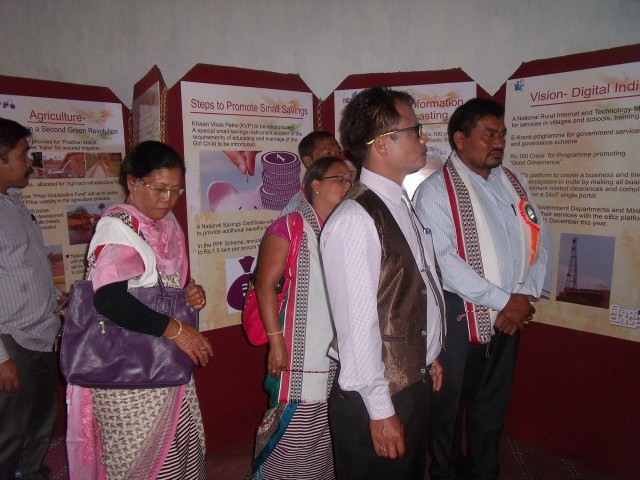 Keinou, November 11: With the aim of creating mass awareness about the programs and policies of Prime Minister Narendra Modi's Government, a five-day photo exhibition on the theme 'Ek Bharat – Shreshtha Bharat' kick-started Tuesday at Keinou High School in Bishnupur District. The exhibition which would continue till November 15 is being organized by the Field Exhibition Office, Directorate of Advertising & Visual Publicity (DAVP), Ministry of Information & Broadcasting, Government of India, Imphal.
Rolling the campaign into motion, W Homeshwore Singh, Pradhan, Keinou Gram Panchayat, who attended the inauguration program as Chief Guest, welcomes the various developmental initiatives undertaken by Narendra Modi led NDA Government. Appreciating the steps taken by Prime Minister Modi, W Homeshwore Singh said that India could well be a developed country even before 2020. He highlighted the various developmental projects initiated by PM Modi with the slogan 'Minimum Government, Maximum Governance'. The Pradhan, alongwith other dignitaries later inspected the exhibition hall.
Earlier, delivering the key-note address, Dr Gin Gangte, IIS, Field Exhibition Officer, DAVP, Imphal outlined the aims and purposes of the exhibition. Dr Gangte, in his speech said that the exhibition is a mass awareness campaign to let know the public about the programs and policies of Prime Minister Narendra Modi's Government. Amongst the various initiatives undertaken by PM Modi, the Field Exhibition Officer specifically mentioned about the upcoming Sports University in Manipur. He also appealed to the public to visit the exhibition so as to have a deeper understand about the programs and policies of the central government.
The inaugural program was presided by Smt Kh Leirentombi Devi, Headmistress, Keinou High School while N Somendro Singh, Up-Pradhan, Keinou Gram Panchayat and Smt L Sunitibala Devi, Member, Ward No 10, Keinou Gram Panchayat attended the program as Guests of Honour.
In the campaign, 37 exhibition panels are put on displayed. The exhibition hall would be opened for public from 10am till 3pm during the exhibition.