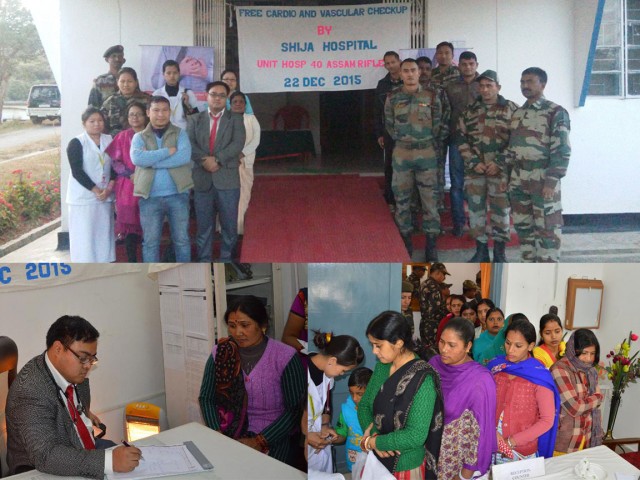 New Keithelmanbi, Imphal West: In association with 40 Assam Rifles, Shija Hospitals & Research Institute conducted a Free Cardiothoracic & Vascular Surgery Check-up Camp at 40 Assam Rifles' Unit Hospital located at New Keithelmanbi on 22nd December, 2015. A team led by Dr. Siddartha Lukram, Consultant CTVS, Shija Hospitals who had done MCh in Cardiothoracic & Vascular Surgery provided free consultation during the check-up for 100 patients.
Detailed examinations along with free ECG tests were carried out for 43 patients and ECHO tests were advised for 22 patients which will be done for free at Shija Hospitals, Langol. Risk-scoring for cardiovascular disease, counseling and distribution of awareness leaflets at the end of examination were the major highlights of the camp.
The Medical Staff of the Unit Hospital, 40 Assam Rifles including Dr. I B Sahi (SMO), supported the camp.