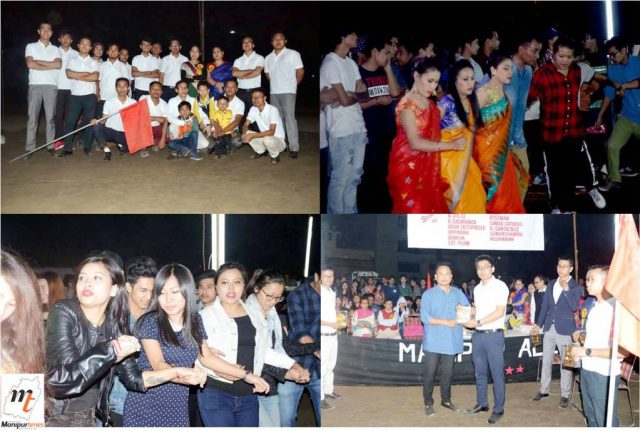 Hiyanggei Gee Thabal was successfully organized on the occasion of Ningol Chakkouba, on 1st November 2016, from 6:30 pm to 11:30 pm, at Dussehra Ground, Mukherjee Nagar Delhi, 110009. The programme was organized with the objective to raise fund for publication and programme dedicated to revolutionary leader comrade Hijam Irabot, as an eventual part of global celebration of centenary year of the October Revolution.
More than two thousand people attended the Thabal. A total of 1876 entry tickets, at the rate of rupees hundred per ticket, were sold at the counter. Integral to the joyous celebration of the day, Roger Bathispatimayum, Susma Postsangbam, and Irish bagged the best thabal awards respectively for man, woman and transgender. They were judged by noted film actor RK Kaiku (Somendro), who arrived at Delhi in the evening to attend the programme. Each winner was awarded with memento and cash, dedicated in the name of late Athokpam Amarjit (Boi) by his father Athokpam Dhananjoy. The invitees were awarded mementos dedicated in the name of Dainty and Paincy by their parents RK. Devendro and M. Diana.
Manipur Alert is grateful to the following persons for their valuable contribution in making the programme successful: (a) Halley Laithangbam, RK. Kaiku and Maheiba Moirangcha for video advertisement, (b) Athokpam Amit (Rs. 15,000), Athokpam Ruby (Rs. 15,000), R.K. Somendro (Kaiku) (Rs. 10,000), Suresh Prasad (Rs. 20,000), Ningombam Raju (Rs. 8,000), Hamom Sadananda (Rs. 5,000), Arun Enterprises (Rs. 5,000), R.K. Bidyarani (Rs. 3,000), Bemcha Devi (Rs. 5,000), Categorical Eat Pham (Rs 4000 + food for thirty people), R.K. Devendro (Mementos and T. Shirts worth Rs 10080), SR Travels (Rs. 5,000), Dr. Noarem Bobo (Rs. 3,000), Vicky Singh (Rs. 2,000), Leishangthem Rosemani (Rs. 2,000), Sangai Caterers (Rs. 5,000) and Dr. Santacruz (Rs 1,000), and (c) Maheiba Moirangcha for anchoring the thabal despite his tied personal schedule. Despite huge expenses incurred in hosting the programme, Manipur Alert could earn more than Rs 2 Lakh profit.
Manipur Alert is regretful that the programme could not be started on the scheduled time due to late turn up by the people. There was temporary breakdown of sound system and light due to unexpected technical errors. Huge crowding and jamming on the Thabal path created temporary disruptions on the flow of thabal from time to time. The programme could not be continued till 12 midnight due to police obstructions. Manipur Alert is regretful for all these unexpected delay, disruptions and whatever dissatisfaction by all those who contributed in making the programme a grand success.