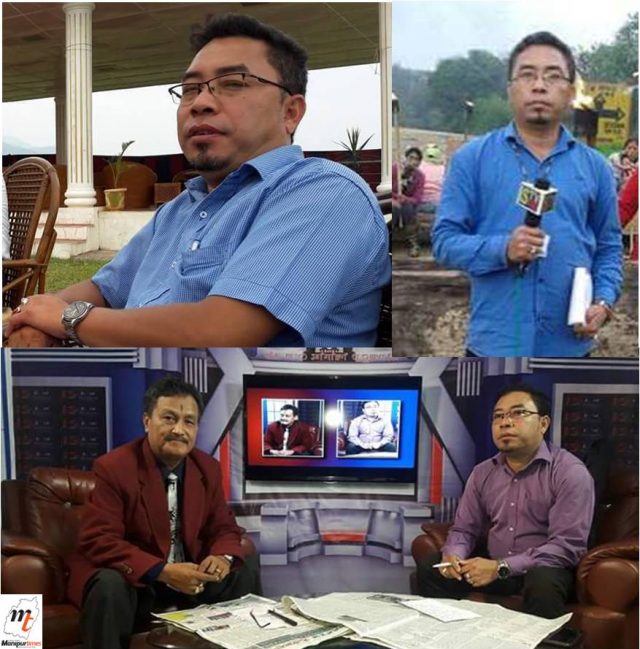 We know him as a pleasing and flawless presenter of hugely popular TV talk shows like 'Discussion Hour' and 'ISTV Gi Ayukshida'. However, acclaimed TV journalist and presenter Jit Ningomba did not set off his career with all the glamour that we see today.
He had travelled to every nook and corner of Manipur including most interior areas and encountered countless trying times as a field TV reporter before he finally settled as a well-groomed TV presenter inside the AC studio of ISTV Network.
Till a couple of years back, we saw him doing 'piece to camera' (PTC) as people glued to their TV sets to have a glimpse of the latest updates on routinely happening people's agitations or a fierce gunfights or a natural calamities.
Jit Ningomba appears on the TV screen and spells out the latest developments instantly. His daring reporting from an encounter site at Mamang Ching Ngangkha Lawai in 2003 is still remembered by ISTV viewers. Many people worried about his wellbeing when gunshots and bomb explosions were heard while watching the report.
He says that a TV journalist must be courageous and he/she needs to maintain calm even at such frightening situations to report the incident properly. Unlike print journalists, TV journalists need to go near the ground zero as close as possible to catch an astonishing frame on the camera.
"Such situations are really dangerous for our life especially in the strife-torn states like Manipur. But luckily, most of us survived", he says with a smile.
He recalls that Konsam Rishikanta, a junior sub-editor of Imphal Free Press, was shot dead by unknown miscreants at Langol hill in Imphal West district in 2008.
Rishikanta was the sole bread earner of his family. Deeply aggrieved on seeing family's sorrow after his sad demise, Jit Ningomba filed an exclusive news on the unfortunate incident. Many viewers could not hold back tears on watching the report, and Jit received innumerable messages and phone calls of applause.
With over 17 years of experience as a journalist to his credit, Jit Ningomba knows the issues besieging Manipur in and out. He has been witnessing all the happenings, big or small, these long 17 years. That's probably the reason why his comments are so convincing and queries are so abrupt and sharp as we see on talk shows like 'ISTV Gi Ayukshida' and 'Discussion Hour'.
EARLY LIFE AND EDUCATION
Jit Ningomba is the fourth son among five sons and three daughters of Ningombam Tomchou and Ningombam (Ongbi) Ibetombi of Singjamei Chingamakha Phuramakhong in Imphal West. He was born on January 1, 1973.
Jit began his early education from a local government school and completed his MA (English) from Garhwal University, Dehradun in 1997. Later, he pursued PG Diploma in Photography at Rohilkhand University, Bareily and completed the course in 1998-99. At that time, he wanted to become a cinematographer. As such, he completed a Film Appreciation Course at Film and Television Institute of India, Pune as well.
STRUGGLE AT DELHI
After he shifted his base to Delhi in search of work, he realized that it was not that easy to become a cinematographer. He worked in the national capital as a freelance photographer and contributed photographs to reputed newspapers like Delhi Times for some time before he finally returned to Manipur in 1999.
PIONEERING BROADCAST NEWS
In 1999, after he returned home from Delhi, Jit Ningomba picked up his camera and roamed around the streets of Imphal and interior corners of the state in search of news worthy happenings.
He recorded interesting events like fire, agitation, natural calamities and entertainment programmes in his Analog camera braving all the adversities of being an 'unrecognised' journalist and broadcast the unedited video footages on SEEN TV as his first attempt to deliver visual news to Manipuri homes.
SEEN TV and ICTV were just a few years old at that time. After government-run Doordarshan Kendra, Imphal began broadcasting regional programmes from 1993; the two private TV networks brought cable TV programmes to Manipur.
At that time, private TV news was new not only to Manipuri viewers but also to Indian audience. In Manipur, local broadcast news on visual medium was just a dream at that time (DDK Imphal began transmitting local news only from August 1, 2005).
During this time, Jit launched a weekly news magazine programme entitled 'This Week' on SEEN TV with himself as the reporter, producer and anchor.
On the other hand, broadcasting raw videos on local TV networks continued in Manipur for many years till SEEN TV began to broadcast its recorded news programme in 2001. Young and energetic Jit Ningomba was appointed as the Assistant Editor cum News Anchor of the local private TV network.
After SEEN TV and ICTV merged together as one entity known as ISTV in January 2003, he became the Desk Editor of the newly launched TV network. During this time, he worked as News Stringer of ZEE News up to 2004 as well.
According to Jit, he derives his communication and presentation skills from his passion of TV and visual medium. He discloses that extensive travelling and meeting different people gave him confidence whenever he came before the camera.
Jit reveals that his understanding about present issues is mainly derived from his long experience as a journalist. He says that one needs to maintain calm under pressure and he/she should has a good memory to become a good moderator or a presenter.
Over the years, Jit Ningomba says, he has gained the ability to work on more than one task at a time because of frequent working under pressure.
PERSONAL LIFE
Jit Ningomba married with TV serial producer Lily Laishram of Uripok Ningthoukhongjam Leikai on February 19, 2006. The couple has a son and a daughter. Jit Ningomba is the current general secretary of All Manipur Working Journalists' Union (AMWJU).