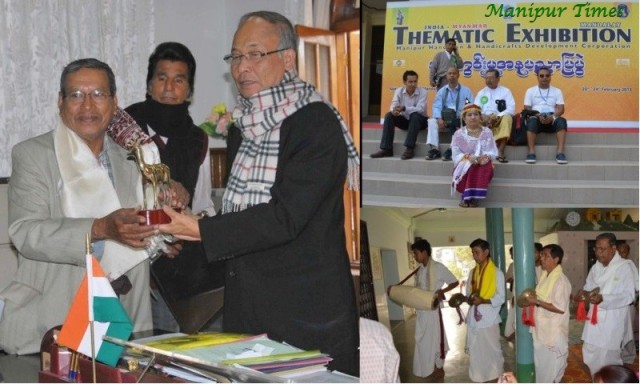 This year, Manipur Sangai Festival served as a chance of homecoming to many Manipuri diasporas. Among those Manipuris, who visited the State during the 10-day festival, Kakchingtabam Sundergopal Sharma, whose Myanmarese name is U Htun Shwe, was an important businessman of the neighbouring country.
Although he hails from Mandalay, his forefathers originated from Manipur and he is a Meitei Brahmin. Popularly known as 'Eigya' (title given to Brahmins in Manipuri language) in his locality, Sundergopal Sharma aka U Htun Shwewasamong the delegates who opened a stall at the festival.
Spreading the message of love, unity, and mutual coordination and cooperation between the people of the two countries, he displayed as many as 45 items comprising of pulses and spices etc in a premium stall at Manipur Sangai Festival.
PROUD TO BE A MANIPURI
In a chat with the Manipur Times during the festival, Sundergopal shared his happiness in participating this year's 10-day event. He said, "Not only me, but all the delegates from Myanmar, especially those who are of Manipuri origin, are very happy to visit their place of origin. I have now visited many places in Manipur including Govindaji temple". He also said that he would not only attend next year's festival but also visit Manipur every year.
SUNDERGOPAL'S BUSSINESS
Known as U Htun Shwe in Myanmar, Sundergopal Sharma is the managing director of Mangri Industrial Co Ltd in Mandalay, Myanmar, which deals in EXIM of food grains of various types. He said that he exported his items in some south Asian counties as well. He is also the vice-president of a trade organisation namely, Myanmar-India Business Association.
Sundergopal had many visitors in his stall at Manipur Sangai Festival, especially those who were interested to meet him and buy his items. Though busy, this soft spoken 76-year-old man managed to interact with every person who visited his stall.
LINKS IN MANIPUR
Sundergopal told Manipur Times that he has now business associates and assistants in Manipur, and through their networks, some items are distributed. He also said that he would try to make up the need of Manipuri people through his business once Mandalay-Imphal surface transport becomes operational. He observed that enhancement of Manipur-Myanmar inland-route could improve trade ties and facilitate delivering Myanmar products in cheaper price.
One of his associate from Imphal said, "The reason for Eigya's participation in the festival is not just to change the grains he has brought into money, but to show the people how they can get quality item in lower price". He claimed that Eigya's items were superior in quality and different from those available in the market.  He further added that Masoor dal was sold at Rs 50.
SUNDERGOPAL'S FAMILY
While MT enquired about his family in Mandalay, he said that though 76-year old, he is unmarried and single, but his family comprises of more than 15 members who are his brothers and their daughters. During the interaction, he also said that he has no relatives in Manipur now but he still feels that Kachingtabam clan in Manipur is his close kin. He further added that their ancestors and forefathers migrated to Myanmar long before the Seven Years Devastation which happened nearly 200 years back.
ITEMS SOLD
Sesame (black, yellow and white), mustard seed, gram whole dal, toor dal, sunflower cake, mustard cake, maize, yellow maize, green moong dal, black matpe dal, lime beans, turmeric finger, butter beans, coriander seeds, custard seed, soy beans and seeds etc were the items available at the stall of Sundergopal's stall at Manipur Sangai Festival.