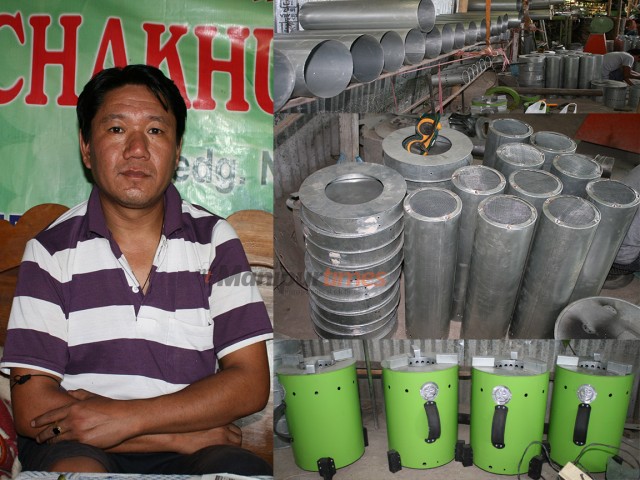 Making of Chakhumgi Wainam, a rice husk operated cooking stove will be favourable for those poor families who still practice firewood kitchen and cannot afford LPG cylinders and stoves. This cooking stove uses husk locally known as Wai which is readily available. A lump of rice husk or wai weighing one kg can give out heat energy continuously for about 45 minutes to one hour which is sufficient to cook a complete meal or boil water comfortably at a blue flame heat produced by the Chakhumgi Wainam Stove. If a family happen to procure 10 bags of rice husks which costs only Rs 10- 15 per bag and are  available in local rice mills, the expenditure of the family using Chakhumgi Wainam stove on cooking food would comparatively be lesser than those of the  families using LPG gas. If every household in Manipur uses Chakhumgi Wainam, the State can save huge expenditure on LPG gas.
Maibam Nandakumar Singh, technical expert of Chakhumgi Wainam told Manipur Times about the facilities being provided by his rice husk operated cooking stove in an interaction.
"Right from the launching day on 27th May, 2013 till today, I have sold more than 5000 pieces of Chakhumgi Wainam, a Rice husk gas stove. At present, the products made by my factory are made available to people through 74 distributors at a whole sale rate of Rs.1600-1800.  My factory produces two models of Chakhumgi wainam stoves- small and medium size. Hundreds of costumers have thronged my factory to purchase the stove fuelled with only rice husk, Nandakumar said.
Maibam Nandakumar, 35, son of Basanta from Heirangoithong Maibam Leikai completed gradation from Regional College in Political Science. Prior to thiswork of Chakhumgi Wainam, he was running a computer centre at Heirangoithong Bazar for the last ten years.  he worked for an NGO at Pangei to earn a living. After leaving the job, he earned for his family running a hotel at Konung Mamang. He did odd jobs, as a poultry farmer and sometimes as a private school teacher.
Before the products are made available to people, they are tested if safety measures are ensured. Initially, about twenty workers, well trained in making the products were employed in the Chakhumgi Wainam Industries, located at Heirangoithong. Now, seven men are working in the industry. A well trained worker can make six 'Chakhumgi Wainam stoves' in a day.
He said," Manipuris have used the traditional Wainam stove for cooking food since time immemorial. After seeing Manipuri traditional wainam stove, I always thought of developing our traditional wainam stove into a more efficient and sophisticated system. After a long research, efforts and reference inputs from some friends and the internet, the Rice Husk Stove "Chakhumgi Wainam" was made in 2012 for the first time in Manipur. It can be mentioned here Prof Alexis T. Belonio, Professor and Chairman of the  Department of Agricultural Engineering and Environmental Management, College of Agriculture, Central Philippine University (CPU), Iloilo City, who has invented the Rice Husk Gas Stove and the technical documentation is available for free for public usage without having a patent for it. [Click here for download the technical details. Copyright (C) November 2005 by Alexis T. Belonio, Permission is hereby granted for the reproduction of this material, in whole or in part for educational, scientific, or development-related purposes provided that (a) full citation of the source is given and (b) notification in writing is given to the author.] This newly made in Manipur stove is smokeless and environmental friendly. As for this new stove, flame regulation can be done with an AC/DC battery operated tiny fan attached to the bottom of the stove. We are spending huge amount of money on LPG gas cylinders. The cost of a LPG cylinder is also very high in Manipur during economic Blocked along the National highway.
When Nandakumar started his venture on Chakhumgi wainam stove, one Longjam Sharat helped him a lot with financial assistance. Oinam Jane (Janeshwor) of Heirangoithong Maibam Leikai, Longjam Ronel of Chingamakha Chanam Pukhri Mapal, Kangujam Telheiba of Kakwa are the three friends to whom Nandakumar gives credit  in his successful journey of introducing Rice Husk Stove to the People of Manipur.
He said that he plans to generate electricity using resources like Rice husk and biomass. When this power plan comes up, problem of power shortage in Manipur can be minimised to some extent.  Moreover, he is working hard to open up a section in his industry that would produce incense sticks using the ashes of rice husk.It will save the rice husk ashes from random wastes.
Working of Rice husk gas stove:  This is a simple and easy demonstration of how Rice husk gas stoves works. Rice husk are placed into the reactor chamber and burned with limited amount of air.
Components of stoves–
1.      Reactor chamber: The reactor chamber is made up of galvanised iron sheet gauge no.24. Diameter of the cylinder gives the power output for the stove. The height of the cylinder gives the operating times of the stove.
2.      Outer chamber: The outer chamber is the cover of the reactor chamber. This chamber prevents from accidently touch and heat loss while operating. There is a space between reactor chamber and outer chamber of minimum 2cm. Top and bottom between reactor chamber and outer chamber are close or seamed. These are holes on the bottom of the outer cylinder which takes air from the outside and passed to the holes on upper portion of the reactor chamber. In this way, the heat released from the reactor chamber is passed to the holes of reactor chamber which makes increase heat efficient for stove. This outer chamber is a body support of the stove.
3.      Air Box: Air box is attached on the bottom of both the reactor chamber and outer chamber. It has a DC 12V Axial fan fixed on the side of the box which blow air into the box which then passes to the reactor chamber. A selector rotary is used to control the speed of the fan.
How to use the stove: 1. Place rice husk into the reactor chamber. 2. Place some pieces of paper over the rice husk. 3. Connect to the 12V battery 4. Turn on the fan to maximum speed. 5. Lit the piece of paper. 6. It takes less than 1 minute to start the stove 7. During the process, one can control the speed of the fan with rotary selector for desire flame 8. After operation, one should switch of the fan and unplug the power.