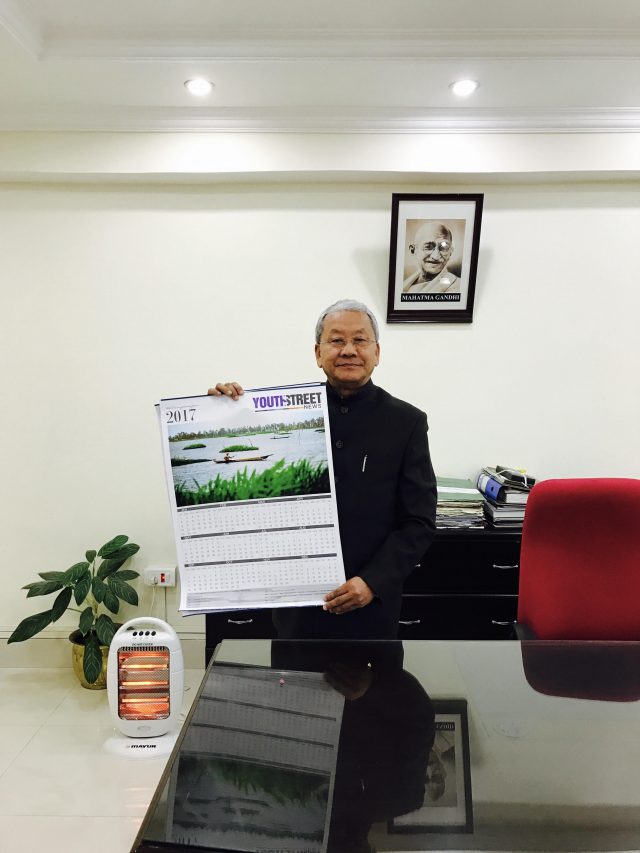 Imphal, Jan 11: Hon'ble Deputy CM Shri Gaikhangam today released the 2017 calendar of Youth Street News at his office chamber, Old Secretariat, Imphal, Manipur. The calendar was released amidst the presence of YSN Founder Editor, Ms Mehnaz Nasreen, Managing Editor, Mr Maisnam and Deputy Editor, Allen Robertson.
Speaking at the occasion, the Deputy CM said, "It's a pleasure to see educated youth coming together at one platform and working for the empowerment of youth as well generating employment through small yet humble initiatives like Youth Street News. I wish you all the very best for your endeavours."
"Youth Street News is not just a media organisation but also a platform for Youth wherein we organised various events and initiatives related to youth empowerment. Since it's inception in 2014, we have organised events like Sangai Youth Art Challenge 2015 and 2016, Ballot Jam 0.1, Youth Music Movement and many such events. YSN will also be organising Ballot Jam 2.0, a voting rights awareness event, targeting the youth of the state in the backdrop of the upcoming elections," said Mehnaz Nasreen, Founder Editor, Youth Street News.