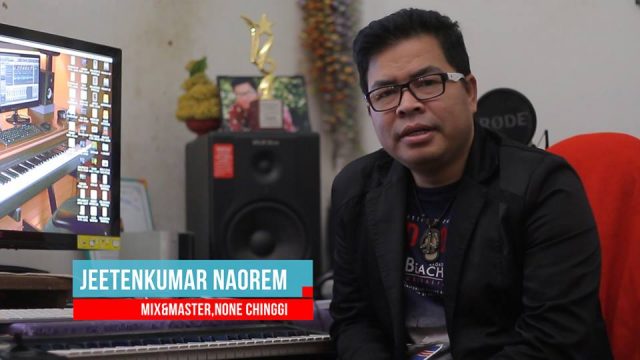 Jeetenkumar Naorem is a talented singer and music director of Manipur Shumang leela and films who has captured the hearts of many music lovers in Manipur. His evergreen lines – Nangi nungshi wakhalda, ahing nungthil anida hingjariba eihakni nangidamakta still continues to be a hit even today, evoking the hearts of many people. As a singer and music director, he made his debut in the Shumang play 21st century Kunti. Another masterpiece song is Shungke keda, ningthijabi Nangse Eigini, a popular song from the Manipuri film 'Waikhu' which he tuned the song as a music director.
Beginning the music journey
Born on February 1, 1972 to Naorem Tompok Metei and Naorem Ongbi Ibemcha of Wabagai Keirak in Thoubal district, Jeetenkumar Naorem is the second son among six siblings (3 sons, 3 daughters) in the family.
Born with a great passion for music, Jeetenkuma was highly influenced to initiate music as a career by a local music band 'Chumthang' located at Wabagai. Youg Jeetenkumar used to keenly observe the music concerts performed by the Chumthang Music band at Wabagai, Keirak village and its vicinity. Compelled by his passion, he along with some of his local music lovers set up a music band called 'Young Artiste Musical Association'.  They managed to organize music concert by raising fund for the music band through contribution of paddy bags and organizing housie.
He defied family strictures
Jeetenkumar's passion for music was a big contrast to his father who wanted his son to be a government officer after completion of his studies. His father, who did not like him to go ahead with music career, rebuked him many times. However, compelled by his passion, Jeetenkumar defied his father's strictures and learnt music silently. He came out from home in early morning on the pretext of attending mathematics coaching at Kakching but he learnt music instead.
While he was studying graduation at Kha Manipur College, Kakching, he always dominated in all the categories of music competitions including classical song, modern song, Bhajan, Gajal, Ravindra Sangeet. With his performance dominating in the college music competition all the time, his college mates were losing interest in joining competition. As such, Jeetenkumar ceased his participation in competition when he was at B.A. third year to give chance to the younger artistes.
After completion of his graduation, he got married with Indubala and became a father of two kids. He went to Shillong to find jobs. However, he returned home since there was no job vacancy.
Photo Courtesy: Jeeten Kumar
He joined Time Star Artiste Association as a playback singer cum music director. Then he joined North Imphal Jatra Mandal.  Leaving Shumang Leela, he joined the music band of Assam Regimental Training Centre, Dimapur. His band even won first position in all India competition. After working for one year, he left the job as he did not find professional satisfaction with Army job and the way the Army officers were treating the artistes as they usually behave to a sepoy. He returned home to pursue his further career professionally. What artiste like is appreciation and clapping from the people for their performance, he said.
Back home, he joined Sanalebak Artiste Association as a music director. He worked as music composer in plays like Memsahepki sari, Ningol chakouba, and World trade centre. The he joined Peacemaker Artistes Association as a singer and music director. His popular song Nangi Nungshi Wakhalda of the Shumang Leela play  21st Century Kunti continues to hit the audience.
His music gurus
Jeetenkumar claimed that he mainly got the inspiration of music from one Ahanthem Rajen of Keirak. As Rajen, who was not a professional singer but a man of a great music talent guided Jeetenkumar to initiate the art. As such, Jeetenkumar still revered Ahanthem Rajen as his first music teacher.  He learnt western music concept from Jiangam Kamei, the noted Manipuri guitarist, apart from learning the knowledge of classical music from Nabakumar Sharma principal of Kha Manipur Hindustani Sangeet Mahavidyala, Kakching.
A music composer should have innate talent of art, sense of music.
Awards and Achievements
Jeetenkumar won the best music director in the song Sungke kedana ningthijabi of the film Waikhu in Manifa 2015 and Boiton Mangkhre.  He was honored with Best music director 2005, 2006 and 2008 in the plays Restaphen, Gusmogi Khudol and Leikang Thambal in the All Manipur Shumang Leela festival organized by Manipur State Kala Akademy, best play back singer in male voice 2015 in the play Kairaba Chaphu in the All Manipur Shumang Leela festival organized by Manipur State Kala Academy, second best play back singer in male voice 2016 in the play Enamma produced by Peacemaker Artistes Association in the 44th All Manipur Shumang Leela festival organized by Manipur State Kala Academy.
As a music director and singer, he contributed in more than 40 Shumang Leela plays.
His other works
He was nominated as a best music director in the film Boiton Mangkhre in the second Sahitya Seva Samiti Manifa 2013, best music director in the film Waikhu in the 4th Sahitya Seva Samiti Manifa 2015.
As a music composer, designer, director and singer, he had worked in more than 200 musical songs in Manipuri feature films and over 1000 songs. He coordinated in the collaborative film production of Meghalaya film Junom as a music composer and director in the year 2011-2012. He was nominated as a scoring in the Manipuri feature film Yening Amadi Likla directed by Dr Makhonmani Mongshaba in the Indian Panorama 2007-2008. As a music director, he attended the international film festival in the Manipuri feature film nangna Kappa Pakchade written by MK Binodini and directed by Dr Makhonmani Mongshaba. He worked as a music director in 4 documentary films produced by DDK Guwahati – Maseer, the game fish, Bamboo 1 and Bamboo 2, primates of the north east, worked as a music director in Manipuri tele play Maitonphe Shimreshang (A legendary story of Tangkhul tribe) directed by Dr Makhonmani Mongshaba produced by DDK Imphal.
He has worked in more than 50 Manipuri feature films as a music director and background scorer.
As a music director, musicians and singer, he has participated in many state and national level theatre festivals including national theatre festival for the play Meigi ching at Meghadoot New Delhi in 2000 organized by NSD, 11st theatre festival and conference of golden jubilee of KPAC at Trissur Charthala, Kayamkulam, Neeravil sea beach, Punnappra, Allapey, Collicut, Thiruvathapuram, Dharwad in Kerala 2001, Shumang Leela performance for the play Memshahepki Sari staged at Prithivi theatre Mumbai 2001, Shumang Leela performance at Nagpur in 2001 organized by All India Peace and Solidarity Nagpur. Shumang Leela performance at Gorki Sadan Kolkata organized by Mr Yuri Jujuria director of Russian cultural centre 2001 and 2002, Shumang Leela performance in the play World trade centre organized by IPTA Mumbai at Mysore theatre 2002, again in SOS children village Pune.