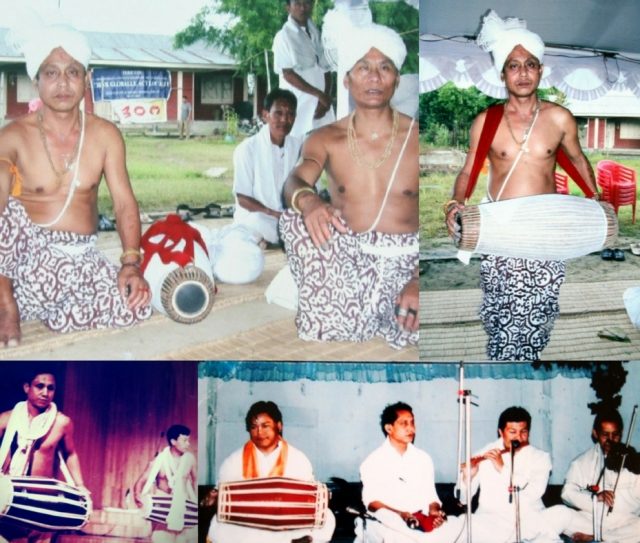 Among the varied art forms, Manipuri Nata Sankritana Pung (percussion) is a globally popular art form. Manipuri Pung Cholom, the soul of Manipuri Sankritana music and Classical Manipuri dance, is world famous. It is a form of Manipuri drum dance where the performer plays the "Pung" or drum while dancing with graceful vigour and acrobatics. Taorem Yaiskul is a great exponent of Manipuri Nata Sankritana who has been adorned with many awards and honours in recognition for his contribution towards reviving the Manipuri Pung tradition.
Learning the art
Born in 1965 to Taorem Kulla Singh and Taorem Ongbi Lukamani Devi at Yourabung in Imphal east district, Taorem Yaiskul is the fourth son among six siblings (3 daughters, 3 sons). Brought up in a family of great Nata Sanktitana background, Yaoskul was highly motivated to be a Pung artiste in life. His father and grandfather were renowned maestros of Manipuri Pung tradition.
During his childhood days, many students came to Yaiskul's house everyday to learn Manipuri Pung under his father.  He keenly observed the activities of the young pung artistes who were undergoing training under his father at their house, which highly motivated the young mind of Yaoskul to learn the art. He used to play the percussion instrument while his father and the students were away from the house for lunch or some works.
On seeing his son's enthusiasm for Pung, his father once suggested Yaiskul to learn Pung tradition if he really had the passion for it, to which he readily agreed. At his 11 years of age, he started learning the art of Nata Sankritana Pung under his father. Yaiskul, who had inborn qualities and great enthusiasm, showed excellent talent in Pung among his friends.
His association with JN Dance Academy
He started taking part in Nupa Pala and Goura Leelas as a Pung artiste. When he was at class V standard, he admitted in Jawaharlal Nehru Manipur dance Academy Imphal to learn three years diploma courses in Nata Sankritana and could complete the course successfully by winning gold medal in 1976.  That time, dance and Pung were integrated in one diploma course. When Proyogopalsana assumed the post of principal of the academy, Pung and dance were divided into separate courses.
Yaiskul recalled that he did not know how to wear Pheijom properly as he joined the interview for admission in JN Dance Academy to learn Pung at a very tender age. He had to compete with the seniors as there was no classification of age for learning diploma course of Pung. As such, seniors used to enjoy the stipend amount of Rs 100 while he only enjoyed merit scholarship amount Rs 30.
Winning the gold medal  
Young Yaiskul proved excellent in Manipuri Pung at the third year of diploma course when he won the gold medal award donated by Sobita Mehta. When his name was announced for the gold medal, some dance artistes protested demanding that the gold medal should be awarded to dance artistes instead of Pung artiste. Following the incident, a meeting of award committee was convened in which most of the board members observed that the gold medal should be given to dance artistes. However, the then vice principal strongly objected elaborating that the gold medal was meant for the meritorious student who proved excellent in the final year exam. Finally, Yaiskul received the gold medal.
He completed post graduates in Pung and Pung Cholom from the Academy in 1978  and 1989 respectively.
He was awarded certificate of honour for his Pung performance showcased in World theatre day held at MDU hall in 1971. He became the AIR Imphal approved artiste of Manipuri Pung in 1993 and Nata Eshei in 2000.
A good composer
Yaiskul is also a good dance composer. He worked as Nata music composer for the Manipuri classical dance Kokil Priyatal staged in the State Kala Academy solo dance festival 1994, Manipuri classical solo dance Guru Bandana and Nagri Ukti showcase in Beigyachandra national dance festival 1994. He also worked as composer Solo dance Radha Avisar, Gouranga Roop Barnan, Nityai Nanda Bibarol, Manipuri duet dance Shiva Durga Shakti (2000), Radha Anuraag (2000), Solo Dance Radha Avisae,  and Holi etc.
He worked in the production unit of JN Dance Academy for 15 years and taught Ballad to the students. Currently, he is working as a guru of Pung Cholom.
Training to young artistes
Yaiskul has set up his own Institute called Guru Kulla Cultural Akademy at his residence at Kongpal Sajor Leikai Imphal East and is giving training to around 40 students in Manipuri Pung tradition. Chakrabiyu, Karna Arjun, Avatar 10 are some of the prominent ballads produced by his institute.
As a musician of JN Dance Academy, he worked in ballads like Kabui Kei-oiba, Mangshat, Nongdon leiba, Rajashree Beigyachandra, Sharik Makhol, Nongpok Panthoibi, Meghadoot, Eadha Shakti etc.
He learnt the art and prominent gurus like Konsam Leibakmacha, Nayan, Chingangbam Angou and many others. He also learnt the Pung tradition from Guru Amudon, Atomba and Apabi, popularly known as Yotshabi Makhong Ahum.
Present life
Yaiskul, being a diabetic patient, is living half blinded. He lost his sight in 2011. Despite his health condition, he does not lose his spirit to revive the rare Manipuri art form and still strives to promote the art form by giving training to the young artiste under his Pung institute. His sons and wife are also helping him.
Yaiskul is a father of four children – one son and three daughters. All his daughters are also artistes who are trying to prominent in Nata Sankritana music, Manipuri solo dance and Bharatanatyam.
Message
Those who like to be a prominent percussionist in life should undergo training systematically under a well expertise teacher who would share whatever he knows in the field. The playing technique requires a differentiated fingering in connection with the complex composition of the skin membranes. The combination of the two drums produces an incredible fullness and details of different rhythm structures and this fullness of expression is unmatched by any other rhythm instrument. Artiste need to dedicate professionally, maintain proper discipline to achieve success in the field.