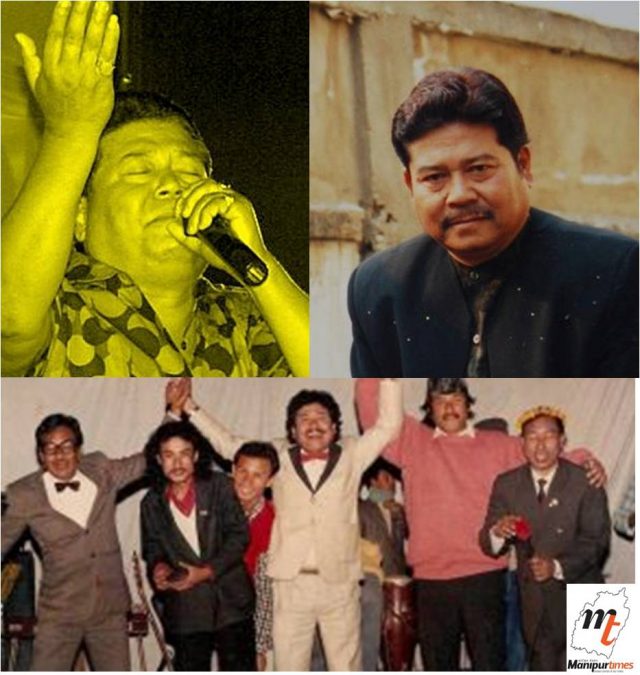 Courtesy of Finding the Voices
"I had an amazing childhood life, playing in nearby hill lopes, jumping into crystal like clear river stream of scared Koubrow hill", recalled legendary singer, musician and activist Samurailatpam Naba Sharma popularly known as Naba Volcano.
According to him, listening to those melodious voices from the films Jagriti, Madhumati on the HNV Radio Gramophone which his father brought from Calcutta after all day playing at woods nearby hill lopes were the most adorable moments of his life.
Naba believes his love of music was influenced by those childhood days, his love of scenic beauties of Sekmai where he spent his early life.
"Being born to such a place where there is true bondage of humans with nature, where the holy stream of the scared Koubrow hill touches every lovely villager's life. May be I was endowed with those greenly fields, scenic hills, clear river water I could inculcate this artistic instinct within me".
Volcano was born at Awang Sekamai, the village along Imphal-Dimapur Highway, 19 km away from Imphal, where his parents had established business for rice hotel. He stayed there till he came to his father's real home at Thangmeiband Porem Leikai, Imphal for his schooling.
His one of the most popular track "Sekmai Chamelei" was based on his experience and people's life there at Sekmai, shared the legendary singer.
'Ukhrul da eigi thawai leihoure'; 'Matam kueirabagi tungda'; 'Indira nangdi meegi ikhare'; 'Nongmatangdi chamthonakhishi' are some of the numbers which has won thousands of hearts.
"There was a high school called 'Little High School' at Khuyathong, founded by Social activist Sagolsem Indramani. The school had day and night classes which gave opportunity to day time workers to attain school during night time. There I did my high schooling", affectionately said Naba.
There, during those schooling periods, Naba stepped-in in the world of music, he chose to face all the challenges, obstacles against his love of music. It was when he was studying in Class VII he started rehearsing among his local teachers.
"It was in 1965/66, All Manipur Students Union (AMSU) started organizing inter school song competitions and I started taking part in the competitions with my contemporary singers Tijendra, Sanaton, late Khun Joykumar and others. It was ending years of my school days too", he recalled.
"For the first time in my life I got Gold Medai in the All Manipur Song Competition in 1968/69 when I was in Class X", acclaimed the legendary singer.
Naba always feel that he was lucky enough to be a resident of Thangmeiband as the area has bunch of music lovers Oja Shyam, Haobam Nimai, Potcha, Dillip and so on. And he got the chance to rehears among them those Oja (teachers).
He credited what he could earn in his life today was because  of his legendary singers cum professional music teachers in Manipur like Oja Aheibam Shyam, Asem Bimola, Pahari, Aheibam Bhudachandra  whom he met after joining 'Rup Rag School' at Bapupara.
"What I am today is all because of their teaching and encouragements", said Naba with full dedication to his teachers.
While sharing other side of the story he said, as we all know music, dance or any other form of performing arts had no place in Manipuri society as it was considered to be futureless profession.
"There were number of obstacles from every angle at that tender age of schooling. Parents never supported as I could lead to false friend circle and un-societal habits at one point of life. While on the other there were disappointments for not able to study music at reputed music colleges outside Manipur. However, at that time in certain States of India music has shown its capacity to the rest of the World, he added.
He said School days have a great role in developing music as carrier in its foundation in one's life.  There should be inter-school competitions in field of music like there are competitions in Science or Mathematics or other streams, he suggested.
According to him, competitions reinforce student's willingness to learn music as a main subject.  And there is tremendous need of support and encouragement from School teachers and friend circles too beside parents as the career should be fully established at college level.
Now the old societal perceptions has changed, people's has moved positive attitude towards Musicians, Artists and other associations with Arts & Culture which he proudly claimed to be the fruit of tireless effort, sacrifices by many Musicians, Artisans, Activist like him.
He strongly urged present as well as coming generations to work more, to sacrifice more and more for the generation to generations to let them expose not only in soil of Manipur but in the International arena.
Besides music, his aprioristic mindset has pushed him into politics too. He had many wishes to rectify the wrong conducts in the society.
In his words, "this is the only Planet where living beings can survive; human species can inhibit and build civilizations. Let us stop killing among humans, no more bloods, and no more hatreds. Only love is upon us. Let us make our only Planet more greenery, pollution free, full of love and kindness".
Original interview is available at NABA SHAMURAILATPAM SHARING HIS JOURNEY AS A SINGER IN MANIPUR