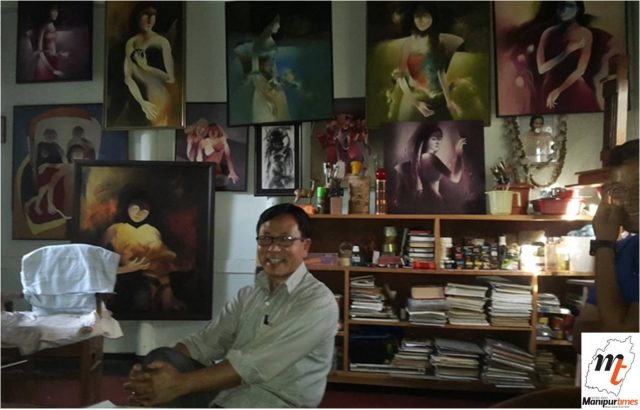 Manipur is endowed with many potential artistes. However, there is a loophole in thinking concept of the younger artistes. The loophole can be attributed to lack of interaction with outside artistes, less participation in national and international level exhibitions. The younger artistes need to interact with already experienced artistes in the state and outside so as to achieve excellence in painting art, said Yumnam Gunindro Singh, a noted painting artiste.
Learning the art
Yumnam Gunindro Singh is a prominent freelance painting artiste who has won many awards for his painting works. Born in 1959 to Yumnam Thambalngou and Yumnam Ongbi Ibetombi Devi of Kongpal Kshetri Leikai, Imphal east, Yumnam Gunindro is the second son among five siblings of three sons and two daughters.  He had a great passion for painting during his young school days.
He completed Diploma in Fine Arts from Government College of Arts and Crafts, Calcutta 1981. While he was studying in Kolkata, he got the opportunity to learn the experience and interact with eminent painters of the country including Bikas Bhattacharya, Ratin Mitra, Chinatamani Kor and many others.
An artiste depicting contemporary issues
Most of the Gunindro's painting work depicts contemporary issues or genres. His work focuses on oil painting, sometimes acrylic water. After completion of his formal painting course, Gunindro started working with a special focus on technique and method. Then he set his foot on contemporary painting as art is such a thing which one experiences in his day to day environment.
While Gunindro was associating with Art Society Manipur, he along with some eminent painting artistes of the country toured many remote hill areas like Tamenglong and Senapati and organized workshops to give awareness on painting art. He felt that painting art which remained confined in valley only was necessary to be expanded in hill areas too. He interacted with people there and experienced the natural beauties there.
The sight of a simple and humble lifestyle of the people there, particularly the womenfolk enthralled Gunindro's heart, prompting him to put whatever he felt on the day on his canvas. The work which depicts a myriad of colours based on contemporary woman issues is a series of painting the artist has been employing to create a signature blend of creativity, imagination, talent and most importantly devotion. In most of his paintings, he tries to depict the contemporary social issues, role of woman in society, Woman vendors eking out a living to maintain their poor families, Meira Paibis involving in social issues, unemployment problems etc.
His painting of a Rikshaw driver is another significant work of Gunindro in which he tries to depict the brunt of social unrest and unemployment problem facing the educated youths of the state.
One evening, Gunindro, while he was at Art Society Manipur, saw a woman waiting for the bus eagerly at Keishampat with a baby on her back after her day's vending work in Imphal. He was highly hurt at the sight and he later on depicted the scene on his canvass.
So far, he has produced over 200 painting works and trained many young students. Among the students, at least 10 students have been prominent painters.
Art exhibitions attended
Since his college days, Gunindro started taking part in many art exhibitions. He was continuously taking part in the annual art exhibitions organised by Manipur State Kala Academy since 1981. He attended the art exhibitions organized by Indian Society of Oriental art, Kolkata 1981, Manipur State Art exhibition 1984, Art Society Art exhibition 1986, National Art Exhibitions organised by Lali Kala Academy, New Delhi (1990. 1991, 1995).
He has also attended in many national and international level art exhibitions including the 50 years of contemporary Indian painting held in Germany, Group art exhibitions, Rabindra Bhavan, New Delhi 2011, Art exhibition from Art East India, Bengal gallery of fine arts, Dhaka 2011, Group exhibition of contemporary Manipur artiste, Birla Arcade Kolkata 2010, Probashi Kolkata 2008, Octabe LKA, New Delhi 2007, 4-paonter, Jahangir Art Gallery, Mumbai 2006, Birla Academy annual art exhibition, Kolkata 2000, ISHAAN NE panorama exhibition of contemporary art, New Delhi 2004, AIFACS annuals, new Delhi 1997, Eastern Region Art exhibition, Kolkata 1990, group Show  Jahangir Art Gallery Mumbai 2001, Young Face Art Academy Kolkata 2000, group show ABC Art Gallery Varanasi 1997, National Exhibition LKA New Delhi etc.
Workshops and camps
He represented in various national and state level workshops and camps including Artistes camp, AIFACS new Delhi 2011, Regional painting camp, Itanagar in 2008, All India art workshop, Dream Art Gallery New Delhi 2007, Art camp Darjeeling 2004, painters' workshop, Imphal RLKK Kolkata, LKK Kolkata 2010, Art camp, Guwahati, Kanu Nayak Art foundation Mumbai 2010, painting camp (North Eastern States ) Gangtok, LKA New Delhi, special painters camp 'Srijan ', New Delhi, Regional painters' camp Mizoram, RLKK Kolkata 2001, Millenium artistes camp, AIFACS new delhi 2000, national friendship camp Guwahati 1998, North east India artistes workshop Jorhat 1989 and others.
Awards and Achievements
Gunindro has been adorned with many awards and honours in recognition of his works. He has been honoured with the State Academy Award in 1983 and 1984, National Award of Arts Society Manipur 1989 and Junior Fellowship, Ministry of Culture, Indian Government 1997, Art Society Manipur Award 1989. Gold medal given by Manipur Sahitya Parishad 2001, Camlin Art Foundation Mumbai Award 2006, Award conferred by All India Fine Arts and Craft Society, New Delhi in 2000 and 2002.