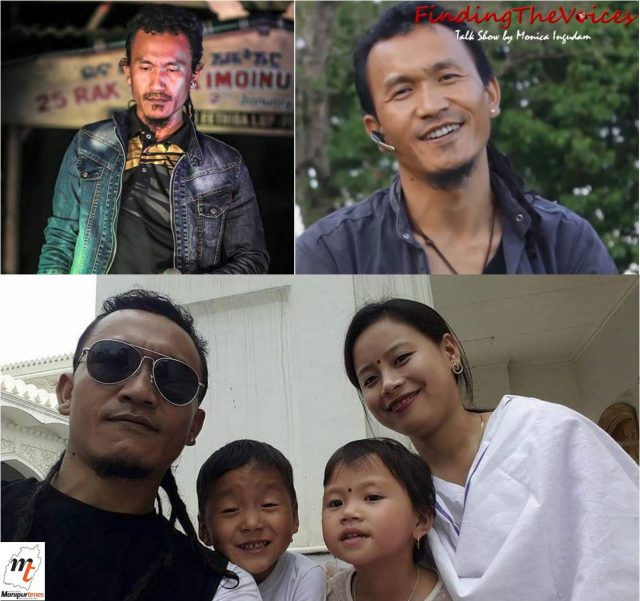 Sorri Senjam is a multifaceted Manipuri Music composer and singer who needs no introduction. He is a favorite to many music lovers of Manipur, particularly the youths. In a recent interaction, Sorri said, "New and upcoming artist should not always confine to one form of music. We still depend on Hindustani music and western music embracing them as ours. Younger generation need to explore music in many possible ways as they could. They should learn to compose their own music and become independent of others. There are many forms of music available in Manipur as it has a very rich folk culture, not only the Meitei folks but also the tribal folks too".
Born at Khurai Chingangbam Leikai in Imphal East, Sorri Senjam is the son of Senjam Bijoy and Senjam Ongbi Memtombi. He is the eldest among two sons in the family. His father was a theatre artiste. As such, Sorri inherited the artistic skill from his father.
Sorri's father who knew his son's talents in the use of musical instrument sent him to a local music school. He started learning music from a very tender age of six years and grown up to become a well known face in the music as well as film world of Manipur. He learnt Hindustani classical first at Sangit Niketan when he was very young. Thereafter, he learnt music under teachers like Thingbaijam Bipinchadra and Oja Thoudam Kameshwar of Khurai Lairikyengbam Leikai. "At that time, my voice was not really adaptable to singing so I learnt playing Keyboard. My brother too taught me the form of western music", he recalled.
In 1999, he went to learn western classical at Bangalore School of Music but he had to quit it in between because of some financial problems. "Actually my major was Piano and as it was very costly to buy a piano of my own, so I could not complete my learning in the said school. Before Bangalore I went to Rajasthan but the music structure there was not really fit for me so I had to come to Bangalore. My travel from Rajasthan to Bangalore was one memorable one for I travel in a truck to Bangalore and it took 7 days to reach there", he said.
After returning from Bangalore, he started composing music at Langlen Recording Studio of Thoudam Ruhinikumar , noted producer cum director of Nokphade comedy series under the guidance of guru late Jiangam Kamei.
Sorri said that he is not a professional singer, but he sings due to public demand.
He began his early schooling at Khurai Lainingthou Ahanba primary school and passed matriculation from CC higher secondary school and graduated from Liberal college Luwangshangbam.
Sorri is married with Diana and now becomes a father of two kids – Langwonhanba and Langdai.
Sorri who is well experienced in playing Musical Instrument – Piano, Penna, Guitar has sang around 50 plus songs till date and most of his songs are popular among the younger generation. His first song in Manipuri film Nangi Shaktam entitled "Choina Tarakpa, Shamlanglaktagi" is still popular among the song lovers.
https://www.youtube.com/watch?v=oZq5USQY4Eg
The artistic talent of Sorri is not limited to singing only. He has also acted in five Manipuri films. His made his debut in Manipuri digital film Kaboklei. He also acted the role of Abung in Manipuri digital film Abhir Khan, which is cinematized from a Shumang Leela play.
He said that Nongmaithem Pahari, Sanaton Sharma, Laishram Mema are some of his favorite singers. Among them, he revered Oja Laishram Mema the most as Sorri feels that she has good knowledge not only on music but also of the instruments too. She knows the theory of music quite well. Sorri said that his favorite song is Nongmaithem Pahari's "Ei Eshei Shakaroi Khalli Adubu Yade"
He said that he enjoys the nature at his free time by going to the nearby hills and enjoy the tranquility and peace of nature.
He said, "I feel really good on becoming a well known singer in Manipur now but there are also things which made me feel bad at the same time. It is easy for a singer to sing the already directed song but the music director works sleepless night to make the song perfect. But, unfortunately the mass knows only the singer and does not try to appreciate the director's effort. For example, I have made good music before but I was not notice by the people but when I started singing, people know me now. I am happy that people love me but I also think that we should also appreciate the music makers as well".
Sorri is giving training to many young students under his privately run music school "Modern School of Music".
Expressing concern on increasing trend of piracy, he said that piracy should be strictly checked and not be allowed. It is like pick pocketing. If this continues, it will kill our career and it badly has its affects on the films too.
Crowds love performing with orchestra's better but if they are not really up to date with their music it is difficult to perform to our fullest. So it depends on the orchestras and at some point of time Karaoke is better.
[ecwid widgets="productbrowser search minicart" categories_per_row="3″ grid="10,3″ list="60″ table="60″ default_category_id="21294227″ category_view="table" search_view="list" minicart_layout="MiniAttachToProductBrowser"]