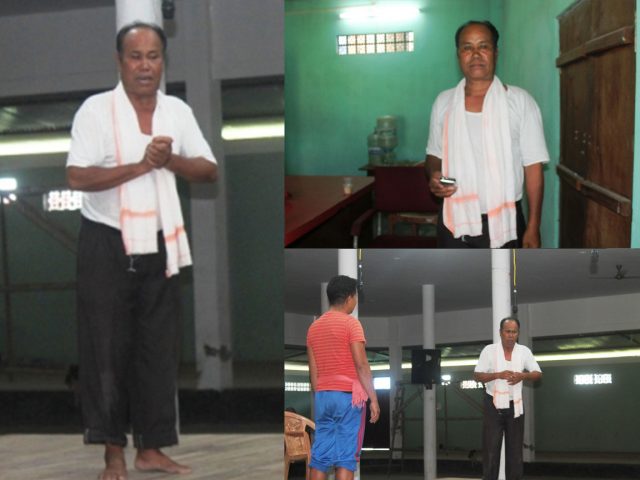 Manipuri people cannot forget the flavor of Ipom, a peculiar Manipuri comedy art which made the audience laugh for years.  With the popular comedy play Ipom vanished after death of  famous comedians like Chaoba, Tombi, Babu etc., comes Nokphade, another genre of comedy series to cater to the ever increasing demand for comedy drama, with new faces of comedians like  Huirem Manglem, Joseph, Rangilal, Kuber, Happy Rajen and Surmangol etc. to uphold the legacy of Manipuri comedy art.
Brief life sketch
58 years old Keisham Kuber is a multifaceted comedian who have won high public accolades for his funny acting in films, dramas and Shumang Leelas.  He is still popular as Huis Laobi Kuber for his peculiar dialogue "Huis!, Huis!" used in the Nokphade play Khangenphamda Ngairi wherein he appeared as a comedian.  He acted in the role of Baladeva, a henpecked controlled by his wife Radha. The play was dramatized by Ruhinikumar from the play Sorat Kana Solbigani penned by Niladhaja Khuman. No doubt, Kuber is among the comedians who can tickle many audiences through his funny acting.
Born on july 17, 1958 to Keisham Gouramani Singh and Keisham Ongbi  Leirikmacha Devi of Top Khongnangkhong in Imphal East, Keisham Kuber is the youngest son among five siblings (two daughters and three sons) in the family. He passed matriculation from Lamphel High School in 1978 and graduated from Modern College in 1982.
Initial acting journey
Kuber who had a great passion for writing stories and poetry since childhood, took up proscenium theatre as he felt it would be very helpful in his writing career.
With a view to realize his dream, he joined People Art and Dramatic Association, Top Khongnangkhong. Later on, he was associated with Panthoibi Natya Mandir in 1987 when noted theatre activist Yumnam Rajendra suggested him to work with him (Rajendra).
He could acquire the skill of acting in theatre from Yumnam Rajen. As theatre director Rajen once advised him that theatre is the junction of all art forms and every artist should have the skill of dance, music, martial art, Kuber learnt dance at JN Manipur Dance Academy Imphal for 12 years. He also underwent Thang-Ta training under Keirao Sana.
While working with People Art and Dramatic Association, he acted in the plays like Tas Chang Thok-ee, Chingningi Sheirol, Guru Dakhina, Taramdai Korou, Hanglai, Mukti, Manjagi Kangthol Ishanougi Kangkhul etc. He won best actor award in All India short play competition, Allahabad 2013 for his Yongkham role in the play Tas Chang Thok-ee. In 2004, he also won best actor Langmeidong Dramatic Union.
 As a Nokphade Artiste
It was in 1994 that Kuber joined Nokphade, a noted Manipuri comedy series as an artiste when Nokphade producer-director Ruhinikumar Thoudam once invited aspiring artistes for his Nokphade series through local newspapers. Kuber did not pay much heed when Ruhinikumar invited for artiste for his Nokphade volume 1 and 2 as he felt a bit skeptical about the new venture of Ruhinikumar. However Ruhinikumar's successful production of Nokphade voIume 1 and 2 series consecutively motivated Kuber, prompting him to approach Ruhinikumar when the later invited for aspiring artistes for his Nokphade volume 3. Kuber acted in Nokphade series from volume 3 to 14. He is also taking part in volume 15 which is going to be released shortly.
Kuber said that Ruhinikumar and Yumnam Rajen were the men behind his success in his acting career. My popularity in art was due to Ruhinikumar's Nokphade while Yumnam Rajen trained me in theatre, Kuber recalled, adding that he still worships the two men.
As a Shumang Leela artiste
With his popularity in acting gaining momentum, some Shumang Leela activists started looking out for Kuber to join Shumang Leela plays. It was in March 2010 that Shumang Leela playwright-director Ranjit Ningthouja once suggested him to make his way in Shumang Leela art. However, Kuber, who he felt that joining Shumang would disrupt his theatre career, requested him to give some time to decide on the matter. In August of the same year, Ranjit Ningthouja along with secretary of North Imphal Manipur Jatra Mandal again insisted him to join Shumang Leela. Finally, he relented.
He joined Shumang Leela after taking due permission from his theatre Guru Yumnam Rajen who felt a bit set-back for losing one of his prominent theatre artistes. "I saw tears shedding from the eyes of Oja Rajen when I sought his permission. We cried for hours as if we were separated forever", Kuber sobbed.
Kuber made his debut in the Shumang Leela play Phajabeegi Mapu of North Imphal Jatra Mandal which was staged during Manipur state Shuamng Leela Ningtham Kumhei 2010. He acted the role of a Pung Yeiba (Manipuri traditional drummer) in the play. Then he started acting in other plays including Basantagi Mapao, Loktak, Meet Ani and many others. He is still associated with the party.
A good writer too
Talent of Kuber is not limited to acting only. He is also a writer. He wrote a poetry book Mirang Thuraba Til released in 1985. He also wrote around 43 short stories published in Sanaleibak daily.
Kuber is married and now a father of three kids – Kapil, Kapila and Kripa.
He said that every artiste should dedicate to his profession to achieve success; else he will not succeed in the field.