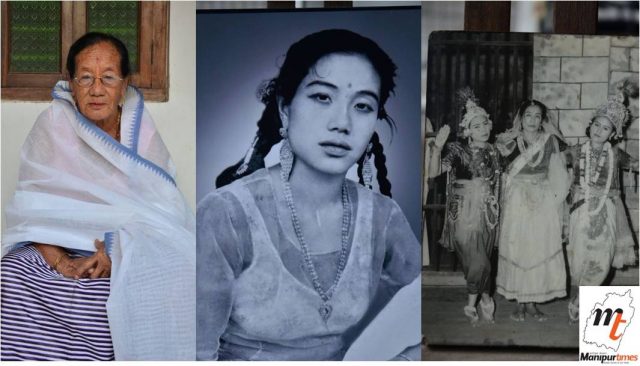 Manipur has an own identity of itself which can be seen in their Arts and Culture that they present to the world proudly. The love of art and the culture of the people here is inherent among the people of Manipur and one will not be able to find a girl or a boy who does not know the famous Manipuri dance or the traditional folk art and songs. Although economically backward, the state has a rich heritage of art and culture for which the state is globally acclaimed. Among the rich varied art and culture, the state is not lagging behind in theatre movement too and produced many talented artistes like Kshetrimayum  Randhani Devi in the performing art.
Acted in Manipuri films
Eighty four years old Kshetrimayum Randhani Devi is a Manipuri theatre actress who has successfully acted in many dramas and Manipuri films to her credit. She has acted in 105 drama plays. Apart from acting in dramas, Randhani has also acted in some Manipuri feature films also. Her role of a mother in Manipuri celluloid film Chatledo Eidi Meigi Ching Puduna directed by Makhonmani Nongshaba and Govindagi Sharik Makhol, a Manipuri digital film directed by Devita Devi could win high public accolades. In fact, her acting in dramas and films has sneered a permanent niche in the hearts of the spectators.
Despite her growing age, her passion for performing art never withers away as she still has the passion for acting.
Beginning of her journey in performing art
Born on October 21, 1931 at Kwakeithel Soibam Leikai, Imphal , she was initiated into the performing arts by her father Kshetrimayum Tombi Singh, a Nata Sankritana Artiste by profession. In her childhood days, she took part in Khubak Ishei, Dance performances during Rathjatra festivals under the guidance of her father. Randhani also is well-versed in handloom and embroidery craft as she learnt the craft from her mother Kshetrimayum Ongbi Yaimabi Devi. However, compelled by her great passion for Arts and culture, she opted for acting career.
Randhani did not get formal education in her life as women were not allowed to attend school during those old days in Manipur society. However, she knows how to read and write as she attended Morning school for some time.
Her theatre masters & Dramas she acted in early part of life
In 1944-45, she learnt the knowledge of Dance and Music under the feet of Guru Ngangom Jugindra. Under the guidance of the teacher, she acted the character of Abhiram, Tara in drama plays which were widely staged across the state for which she is still popular as "Abhiram tara Shabi". Later on, she joined Roxy Theatre and for the first time acted the character of a boy Chandra in "Thaballei" drama play directed by Oja Kalachand Singh.  She acted the role of Bhaktaraj in Arian Theatre's drama "Bhaktaraj" directed by Haobam Ibungoyaima. At the same time, she also learnt classical dance, Music and Bhajan under the feet of Guru Thokchom Angou Singh of Yaiskul. In the early part of 1947, she took the role of Radhe in Thabalei drama of Arian Theatre. She also acted main role in the dramas – Chithi Khela, Ima – Macha  of Society Theatre set up by GC Tongbra.
As a dancer, Randhani had showcased Manipuri classical dance drama Dash Avatar in Japan under the guidance of Guru Laishram Lakhon who founded Natya mandir, Sega Road. She also presented solo music. In 1945, she joined MDU and fully learnt the acting knowledge in the field of Mythology, History, social, folk plays under Gurus like Sorokhaibam Lalit and Khomdram Dhanachandra and Tombi. Taking leave from MDU for some years, she joined touring drama to showcase her acting across the state.
Strive for becoming a success artiste challenging social stigma
It was a period of strong drama movement and there was hardly any lady drama artistes as women were not allowed to be artistes in Manipuri society. Woman drama artistes were socially stigmatized and considered 'immoral' by the then social norms. Challenging the social stigma, she joined drama plays in her free schedule. Although society made a mockery of her career, she consistently worked for dramas with no let ups as she got strong motivation and encouragement from her family.
Drama is the image on the surface of mirror. I only saw the aesthetic beauty of Arts and Culture. Those social stigmas rather encouraged me to be an artiste in life. I have guded many woman artistes of my locality in the field of acting, dance and music, she said.
She trained some aspiring women artistes of Cashar following a request from some drama lovers. Under her direction, drama plays – Mainu Pemcha, Thaballei were showcased at various parts of Lakhipur including Laishram Khul, Jaribon, Ingribon etc.
She came back to MDU in 1957-58 and began acting in many plays again.
Great sense of nationalism as artiste
One police arrested the drama artistes including her for displaying a drama India Nambo Thaba written by GC Tomgbra of Society Theatre. They spent the night at police lock up. In the morning, a police officer inquired them about the leader of the drama party. Randhani bravely replied that she was the leader and asked the police to arrest her saying angrily "it is better to die than to live in colonialism". Helpless, the police officer released them with a warning not to replay the drama again. However, they played the drama in several occasions defying police warnings. GC Tongbra gave her title "Meetei Nupi" in recognition to her spirit of nationalism and bravery.
Randhani acted in Rupmahal Theatre's drama plays like Mainu Pemcha, Moirangthoibi, Bir Tikendrajit etc during 1959-60. Randhani has acted in 105 drama plays till date.
Awards & Achievements
For her performances and contribution in the field of theatre as an actress she has received various honours and awards. She was conferred with the Meitram Bira Award 2011 for her contribution towards promoting theatre in the state. She bagged best actress award in the Government Drama Festival 1960. Chief Minister RK Ranbir honoured her with the title "Over All contribution in the field of Drama" by presenting certificate and medal during the Republic day celebration 1994. Over and above she was honoured with Yumlembam Gambini Award 1994, Sharungbam Chaoba Singh MDU Artiste Ningshing Mana 2002,  Avinandan Patra Award by the Rupmahal Theatre in connection with the 100 anniversary of Manipur proscenium theatre held in 2002, Natyabhushan Award by the Manipur Sahitya Parishad in 2004, Avinandan Patra Award by Manipur Dramatic Unionin 2006, Manipur state kala Akademy Award 2007, certificate of appreciation by the Neta Irabat Celebration committee Kakching for her role of a mother in Maniouri celluloid film Chatledo Eidi directed by Makhonmani Mongshaba. Guru Khomdram Dhanachandra Award by MDU in 2010.