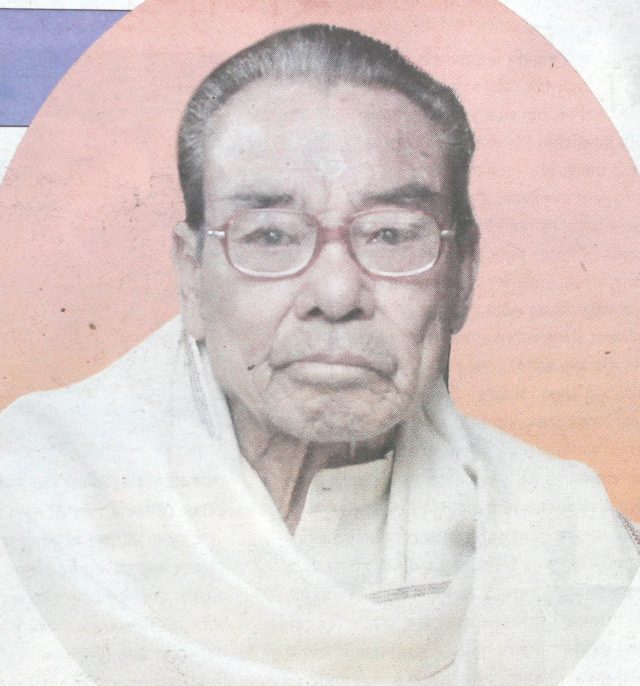 Shumang Leela (courtyard theatre play) is among the unique art forms of Manipur. With swift changing of time, the art form has now seen a drastic change in its look and tradition. The traditional flavor of Shumang Lila is weaning in modern Manipur society, says veteran Shumang Leela Artiste Loitam Tomal.
Beginning of his acting journey
Loitam Tomal is a versatile artiste who has won high public accolades for his acting in several Shumang Leela plays, a unique Manipuri art form. He is still popularly known as "Chunilal Shaba", a supporting role from one of his Shumang Leela plays "Devdas", a famous Bengali novel penned by Sharatchandra Chatterjee, wherein he appeared as a drunkard lad. Shumang Leela viewers, the woman and children in particular still admire Tomal for his roles in Manipuri Shumang Leela.  He is also known as "Imphal Babu" or "Idhou Shaba".
Loitam Tomal discovered his passion of acting at his tender age of 12 years. In his acting career, he made his debut in the play Harischandra in which he played the character of Ruhidas. He acted as Ruhidas for five years in the play; he even played in different roles in the same play.
Born to Loitam Mani Meetei and Loitam Rasmani Devi of Khamaram as third son among eight siblings, Tomal was compelled to earn for the family and look after his younger sisters and brothers as they lost their mother very early.
In early days, artistes moved from place to place for show, riding their by-cycles with musical instruments loaded on their back. Cycle was the only means of transport for Shumang Leela artistes to visit various far flung villages of the state for Leela show. When they received invitation for a Leela show, the artiste from various areas would congregate at Leela party office in Imphal riding their cycles. Then they set off for the journey in a group with Dhulok, Kartal loaded on back, riding their cycles to stage Leela plays in far flung villages.
His endless passion for acting
Tomal is 83 years old now. Despite his elderly age, his passion for acting never withers away as he still continues to work for the promotion of Shumang Leela being the chairman of Imphal Jatra cum Drama Association. His elderly age never bothers him to stop from acting.  He likes to serve the people by acting in many plays. Tomal could win high public accolades for his talented acting in many plays.
Tomal acted in plays till his 70 years of age. He is such an artiste who always tries to showcase the best talent he has in every character assigned to him. He was compelled to bid adieu to Shumang Leela due to his elderly age and physical weakness. However, he loves to promote the tradition of Shumang Leela, a precious gift of forefathers.
Tomal is now living at Uripok Huidrom Leikai with his wife Akasini, and daughters.
Tomal said, Shumang Leela is a composite indigenous art form of Manipur which informs, educates, entertains, persuades and motivates people on a variety of issues. Apart from entertaining people and making them forget their day-to-day tensions and worries, Shumang Leela, taking the role of mass media, highlights various social issues to the people ranging from the most learned to the most illiterate, the richest to the poorest, and the most foolish to the wisest. It is unique among the proscenium theatres".
A multifaceted artiste
His passion for acting is not limited to Shumang Leela only. He also acted in Manipuri films too. He acted the role of Yumjaosana in the first Manipuri colour film Ningthemcha Ahum directed by Ngairambam Ibohal (X Photo). He acted in many plays directed by Laishram Netrajit, Maibam Ramcharan, Hawaibam Nilamani and Meitram Bira.
Awards and Honours
Being an outstanding Artiste in the region, he has won many other Awards and acclamations to his credit. He won best actor in the play Imphalgi babu in 1965, best director award in the plays- Dr babu (1975); Ishwargi Nongdam (1976); Thawaigi Mani (1985); Kangla Karbar (1985); Nupigi Pheedam (1994); Idhou (1995). He is a recipient of Iboyaima Shumang Leela Award 2002.
Message
Shumang Leela is a mirror which reflects good and bad in Manipuri society.  A great change in the trend of Shumang Leela has now surfaced. The real aspect of Shumang Leela tradition could be seen in the plays performed by the old artistes two three decades back. Contemporary plays which seem like a film lack the real genre of Shumang Leela. Revival of the ancient art will be an engine which will take the rich cultural heritage of Meitei to the outside world and put it across for national and international recognition, he said.