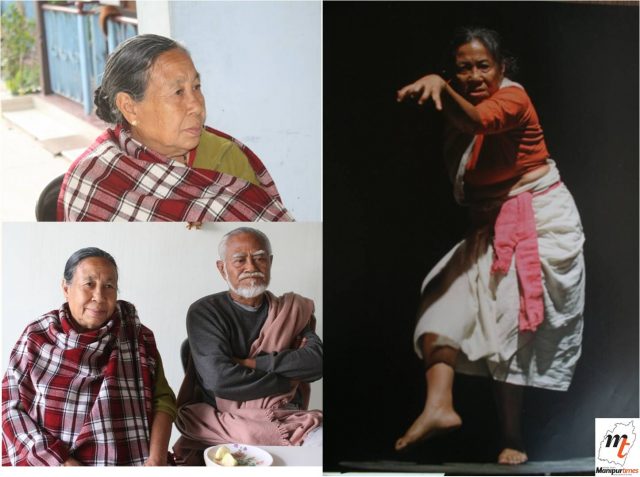 Heisnam Sabitri is an internationally acclaimed Manipuri theatre actress who has been adorned with many awards and honours in recognition of her performance in theatre art.  Born on January 5, 1946 at Mayang Imphal, Sabitri began her acting career in theatre at the age of seven years under the guidance of her aunt, C. Gouramani, the then versatile actress of Manipur who trained her in Gurukul tradition. As a child artiste in Elangbam Joychandra's popular travelling opera troupe, she visited many places to give her performance. As a child artiste, she acted the lead in the popular play Nimai Sanyas in 1955 for over 1000 shows.
She toured nook and corner of the state while performing the role of Nimai (Gouranga) as a child artiste for which she was widely acclaimed. She also acted the role of Queen Chintamani in the play Shri Vasta- Chintamani and now she became a representative actress of her age.
Her acquaintance with Kanhailal
She married to Heisnam Kanhailal, a prominent theatre personality of Manipur at the age of her 16 years. She made her acquaintance with Kanhailal when the later approached her to take the leading female role in his play Layeng Ahanba. Someone may even remark that their union had been pre-ordained. Sabitri, now in her late fifties, is still going strong, a real helper of her husband, an illustrious actress with so many laurels on her head.
Family restrictions
"A group of students studying outside Manipur all came home for the summer vacation and decided to do a play. Oja Kanhailal wrote and directed Layeng Ahanba, a drama about their life away from home. I was selected to act in the play. This is how I met Kanhailal. Although my own family had never had a problem with my acting, my father, my aunt and their relatives were all interested in arts, Kanhailal's family raised objection. So I gave up acting in theatre for many years", she recalled.
Sabitri's passion could not be suppressed for long. Compelled by her passion, she eventually accepted an engagement with a theatre group on the condition that they get her permission from her family to act on the stage. They talk to Oja Kanhailal who also wanted to revive her wife's acting career.  Kanhailal spoke to his mother who later on insisted her father-in-law. Finally, family members permitted her to act on the stage. Sabitri then started acting on stage. While doing so, she was always carrying her two kids with her. At times, her mother-in-law also came along to look after the kids at Aryan theatre. Sabitri used to get Rs 15 for acting and the amount was given to her mother-in-law.
Prominent plays she acted
Sabitri joined her husband in Kalakshetra Manipur founded by her husband in 1969. She acted in the role of role of Pebet mother in the short film (documentation of Pebet performance in film) in 1985 produced by Kanhailal and role of Mahadevi Akka in the short film of the same title directed by Madhusree Dutta for Majlish, Mumbai in 1999.
Her major performances in the field of alternate theatre of Kalakshetra Manipur include the characters of Ekhoulangbi in Ekhoulangbi (1970), widow mother in Tamnalai (1972), old woman in Kabui Keioiba (1973), mother Pebet in Pebet (1975), tribal woman in Laigi Machasinga (1978), Mi in Memoirs of Africa (1985), thambal in 'Migi Sharang' (1990), Radha in Karna (1997) and Draupadi in Mahasweta Devi's Draupadi dramatistsation (2000). Her acting in these roles had sneered a permanent niche in the hearts of the spectators.
Awards and Honours
For her performances and contribution in the field of theatre as an actress she has received various honours and awards in and outside the country. She received Manipur State Kala Academy for acting in 1988, National Sangeet Natak Academy Award for acting in 1991. Best actress was awarded by the panel of critics in the 3rd Cairo International Festival of experimental theatre in 1991. And she has also been honoured with Nandikar Award in 2002 at Kolkata on the occasion of the year of women empowerment by Nandikar, Kolkata in collaboration with the Department of Child and Woman Development, Government of India as well as Padma Shri Award by the Government of India in the year 2007. She was member of the Central Sangeet Natak Academy nominated by the Govt. of India.
As a major collaborator in Kanhailal's theatrical laboratory and research works, she has always been a dependable source and associate. Likewise, she too gained in the knowledge of techniques related to Manipuri traditional performances such as thang-ta (sword and spear use), Maibi (Priestess), Sanskirtana, folk operatic theatre, etc.
Sabitri is also an innovator in her own way. She had independently analysed whatever she had artistically accomplished to explore techniques of modern performance in Manipur cultural context. Sabitri formulated her own system under fellowship projects awarded by the Ministry of Human Resource Development and also Majlis of Mumbai. Her findings have enabled her to teach scientifically the young actors.
Sabitri is god gift's of Kanhailal because besides being a very talented and original actress, she complemented his works with her deep knowledge of the issues foreground in Kanhailal's productions. Sabitri has always occupied an important place in his plays. Their combined effort has made them into what they are known to be today. She is the exponent of the ideas churning inside her husband's mind.