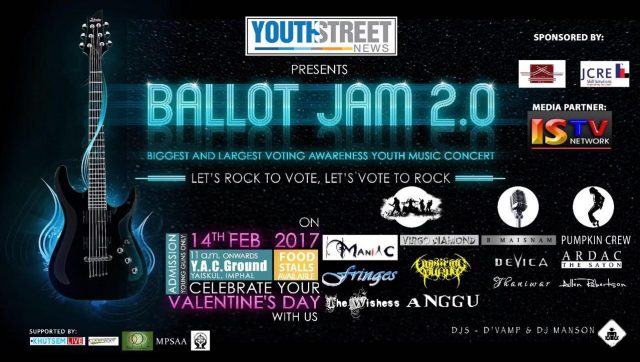 We are happy to announce that Youth Street News is organising Ballot Jam 2.0, a voting rights awareness music fest for the youth, on 14th February 2017, at YAC Ground, Yaiskul, Imphal. It is not related to any political party or any government departments.
With the assembly elections coming up, we intend to pass on the knowledge to the youth of the state, that voting is much crucial for the betterment of the society and explain the power of voting.
The event will start from 11am on 14th of February 2017 and will go on until 10 pm. During the event, we will have young leaders addressing the crowd, taking about the significance of voting. We will also have performances by school bands, dancers, DJs and popular musical acts of Manipur.
For more details , please visit : https://www.facebook.com/events/1071047169671708/