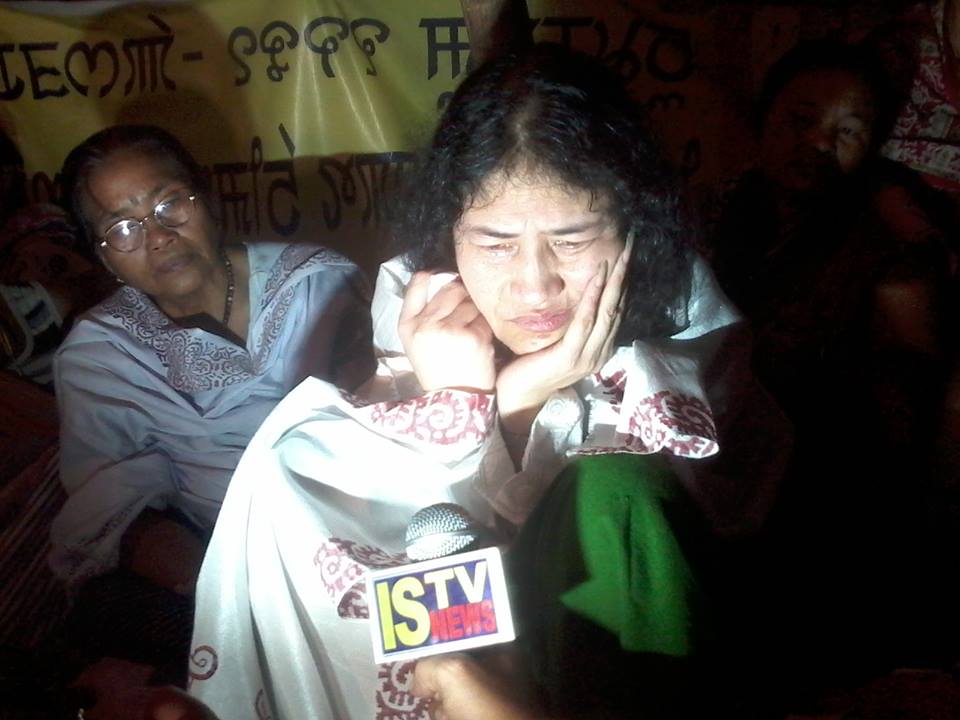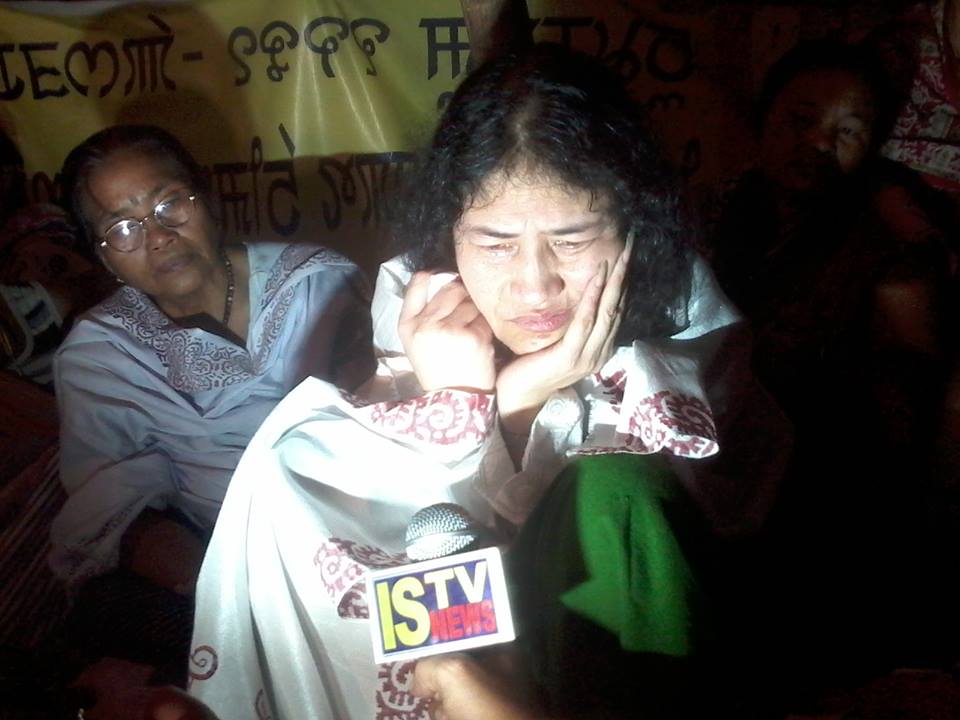 Irom Chanu Sharmila was wearing an honor cloth (Enaphi with Khamen Chatpa print). An elderly women who was sitting next to her answered to a query that the cloth was gifted to her today as she was set free after a Session Judge ruling. A dozen meira paibi surrounds her as she answered to Journalists. She has continued her struggle at Porompat where she sit in protest without taking food for the removal of AFSPA 1958 from Manipur. 
Tears roll down as she speaks. There was a tone of confidence. The elderly meira paibi also weep as she started to do so. The women in her is bold and strong. "I never change I will continue till I succeed. I want to live and relish life like I want to succeed", expressed Sharmila .
" During the colonial rule of British, the Britishers have left the country as they could no longer fire guns to the non-violent measures people of the country took up. I felt a bit of success in my movement and I think they have set me free as they starting feeling ashamed of what they have been doing. It is inhuman to keep a person like they did to me.
Politically what I am doing is right and I have proved it so I am happy inside. My movement is not over. After 14 years of detention they have suddenly released me. They have been keeping me under observation. It could also be their delaying tactics releasing me when there are less people to follow me", continued Sharmila.
"First of all I want Narendra Modi our Prime Minister to consider me as a democratic citizen of India. Then I want him to take a decision if my deed is right or wrong. What I am doing is my democratic right. I also wish if he could give his opinion whether what I am doing is agreeable or not agreeable. If they do not want, it is ok and if they want it is ok too. We do not want any flattery. It is torturous to keep a human like I am kept for long time", answered Irom Chanu Sharmila to a journalist who asked him what she wants to convey to the new Prime Minister of India.
The court gave a ruling that your struggle is not an attempt to murder. Congratulation on that and what form of justice would you like for imprisoning you for the last 14 years asked Manipur Times. 
Sharmila answered – What is the type of ruling in a democratic set up like India, I want to know their heart. They should give compensation. To shut up the movement of the people they have wasted public money. We need to investigate in this matter.
When I went to Patiala house in Delhi during May, Indian Express carried a news that the Head Constable who was observing me gave water and I drank as Delhi is hot. I just want to know the intention of Indian Express for carrying false and misleading news. I want justification on this Sharmila said.
She wishes to strengthen the movement and during the long interaction she also expressed as below in Manipuri words – 
" Chittaranjan gum mayam na symbol oina chatkhro haina pambara. Madumakna moigi apamba oirabadi oirasanu"