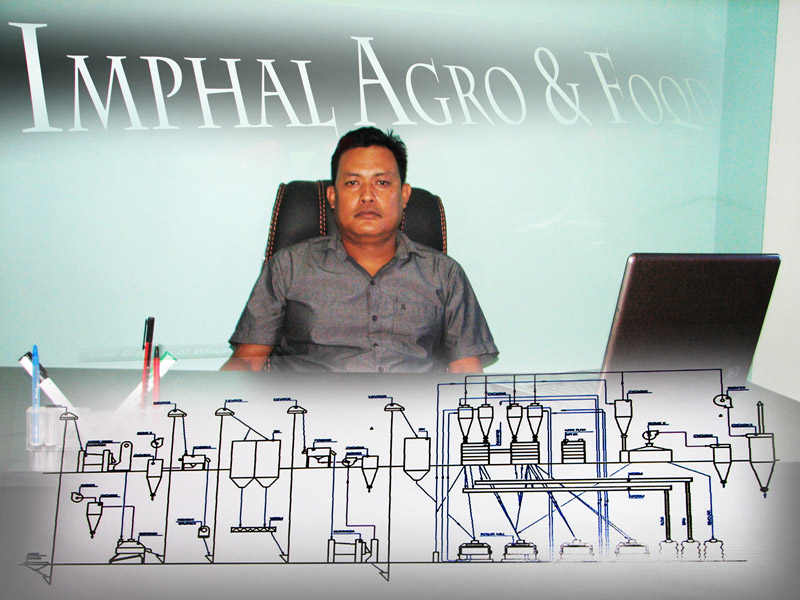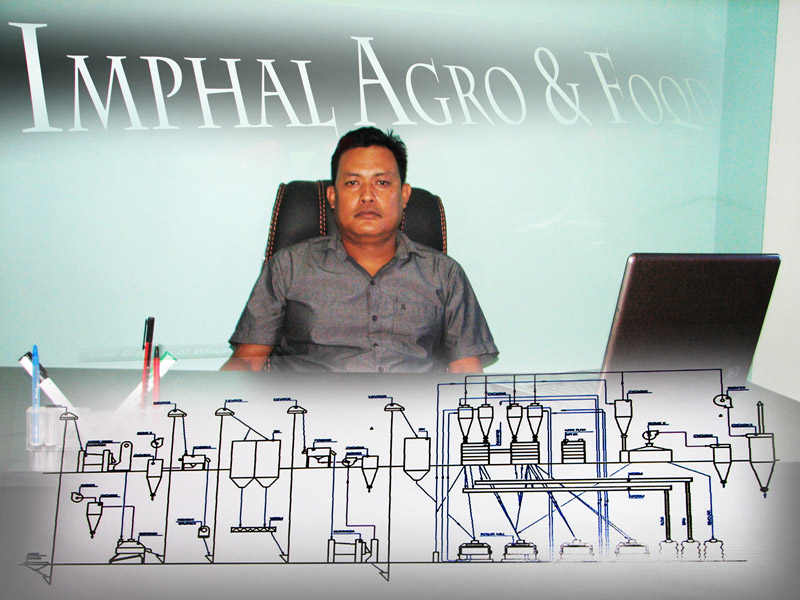 Imphal Agro & Food Technology Consultancy
For entrepreneurs who like to set up Agro and food based Industries in Manipur, the advent of Imphal Agro & Food Technology Consultancy is a boon to them. This consultancy service located at Singjamei Chingamthak, Imphal West offers consultancy for an industry establishment such as technical, machineries, budgetary, project details and planning. Among the services provided by the firm, it includes sales of machineries for food based industries, technological assistance, technical and servicing of the machineries, proper guidelines for better production and maintaining quality of the product,  providing technical and marketing know-how to the aspiring entrepreneurs and so on.
Imphal Agro and Food Technology Consultancy (IAFTC) is a joint endeavour of a team of dedicated members who are specialised in the field of food processing industry.  Prithivi Senjam from Khurai, Ningombam Bimojit from Kakwa, Peter Maibam and Thoudam Rabi are the dedicated key team members of this enterprising firm. The Imphal Agro & Food Technology Consultancy (IAFTC) presently located at Singjamei Chingamathak was established on 14th May 2013. It is a socio-economic consultancy firm established with the objectives of promoting Agro-based food industries in Manipur.
Prithivi Senjam, Managing Director of Imphal Agro & Food Technology Consultancy shares Manipur Times about the journey of his consultancy firm. 
IAFTC's production unit
The firm has a production unit at Saijol village. The hammer mills installed at this village grinds wheat, maize, rice, peas etc. to produce flour and  chick pea flour. At least, ten men are employed in this production unit which is the main source of revenue of the firm at present.
Prithivi Senjam's endeavour
Prior to the establishment of Imphal Agro and Foods Technology Consultancy, Prithivi Senjam, Managing Director of the firm worked in many big industries located at Hyderabad, Rajasthan, Bangalore, Silchar, Mumbai, Uttar Pradesh etc. for about 18 years. He worked as a Factory Manager of Mega City Flour Mills, Hyderabad in 2004, as Sales Manager of Wallace Flour Mills, Mumbai, the biggest Flour Mills in India which produces 20,000 kg of flour per hour, and as a Unit Manager of Favorich India Pvt. Ltd. Bangalore, the biggest raw material supplier of Pepsi India. After leaving the job, he returned his home state Manipur in 2012 and set up the IAFTC firm with some of his like- minded friends.
Returned to Manipur to promote industrial sector
When asked why he left Favorich, Prithivi Senjam said, "I have worked for many big factories located outside for 18 years. The said factories paid me enough salary. I got up to Rs.75,000 per month as salary.  I felt so emotional to think that our state does not have any big industry while outside states have many medium and large scale industries. I thought why we cannot establish such big industries while others can. We have talent and potential. I returned Manipur to set up a big food industry and share with other aspiring entrepreneurs, all my knowledge and expertise which was earned during my 18 years of factory experience."
More about Prithivi Senjam
Mr. Prithivi Senjam is the eldest son among two sons of Senjam Bijoy hailing from Khurai Chingangbam Leikai. He is the elder brother of Sorry Senjam, Manipur's renown singer and music director. He studied from class I to IV in Lainingthou Lai Awangba School, Khurai and passed matriculation from Blue Vanda English school, Nagaram. After passing class XII from Modern College, Porompat, he went to Mysore for further studies and completed B.Sc (Microbiology) under Mysore University. Then he was selected for study in Central Food Technology Research Insitute (CFTRI). He completed two years diploma course in International school of Milling Tehnology (ISMT course) and Flour Milling Baking and Confectionary Technology (FMBNCT course).
"My parents, at first, did not like me to pursue a course related to food industry. Even my mother warned me that learning such course would be a futile career and that I would be jobless in Manipur where there is less industry. Since childhood, I loved servicing of machineries and other electronics items. My father who is a retired electrician of electricity department is my inspiration", said Prithivi.
Entrepreneurship among Manipuris
He goes on to say that it is said that Manipuris lack work culture. "It is not lack of work culture but ignorance and expertise. We need to share each other instead of discouraging others. Government need to take up a policy to encourage the aspiring entrepreneurs. Banks should not favour only the rich men. They need to be a friend of the poor also. Manipur is not a desert, it has rich natural resource. We can promote industries by utilising the rich resource. CC Tea, a product of Manipur manufactured by Sui generis has been popular now in India and it is all set to compare with the TATA Tea. It is a pride of Manipur", reiterates Prithivi Senjam.
Business prospects in the state
Manipur has a great business prospects in agro and food Industry in view of its rich natural resources. An entrepreneur, before setting up an industry, needs to think carefully that the industry he dreams to set up will be suitable with the soil of this state, otherwise his business will suffer loss. For example, business in noodles may have a great business prospect in the state. Nowadays, young boys and girls prefer this food item very much. Many entrepreneurs who like to set up industries in bakery, noodles, packaged drinking water, meat processing, Soyaplant used to visit the firm to collect technical know-how and consultancy. Raw material, processing unit and marketing are the most important components for successful running of an industry.
"We do not charge our clients much money for the service we provide. Rather we like to help them with our best services and see their success in Industry. The success of our clients is also our success. We like to share our expertise to the already well established firms in the state to promote more business, observed he.
Challenges
Industrially backwardness is the key factor which has been a hindrance to the development of Manipur. The prevailing economic condition of the state is in a pitiful condition as compared to other states of India. This led to the formation of IAFCT with a view to free our state from the chain of poverty. We welcome all kinds of innovative ideas and prepare to tackle all the challenges to put into practice through our technical knowledge, in Prithivi Senjam's words.
[ecwid widgets="productbrowser search minicart" categories_per_row="3″ grid="10,3″ list="60″ table="60″ default_category_id="21230762″ category_view="grid" search_view="list" minicart_layout="MiniAttachToProductBrowser"]