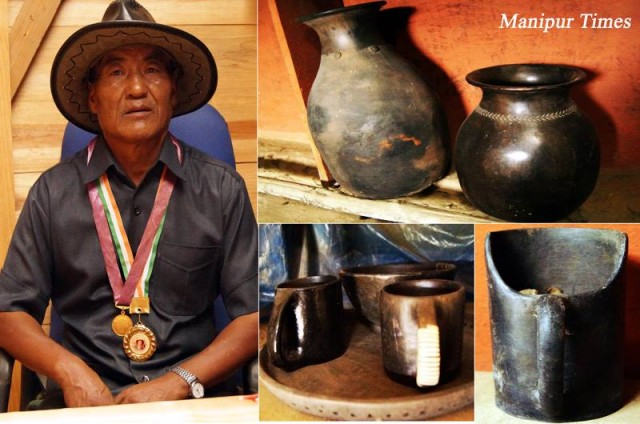 Forty kilometres drive from Ukhrul main town a small hamlet of hard working people lives to nature's bounty. They grow paddy and practice horticulture from ancient time. Rocky Mountains with abundant costly green serpentine rocks are the gift of Nungbi village which remains unexplored. Even the road construction work is done with the abundant rock type. When polished the green serpentine rock gives a decorative look and is of valuable marble properties. The same rock type could be seen in some parts along the stretch of Indo Myanmar road.
With primitive tools the Nungbi villagers have started powdering black serpentine rock found in the vicinity of Kapungram locality. The powdered rock is mixed with mud and water to make designers pot. The product has gain fame and recognition within the State and beyond since years back. The art has given three national award winners in the small hamlet. Now wide range of designer pots and other products have enhanced the product from the unique raw materials. The mud is collected from the river bank at Sala village. They named the soil as Salanali soil.
The villagers have developed certain tools with the help of concern officials which make them very progressive and time saving at present. Added to that a mutli – stone crushing machine gifted by Central Glass and Ceramic Research Centre Kolkata under Science and Technology scheme towards Shilapa Guru Machihan Sasa after recognising his work some years back have done wonders to Nungbi potters as the machine work have saved lots of labour with overflowing outputs.
The products of Nungbi pottery work ranges from flowerpots, jars, cooking utensils, cups, kettles, plates, mugs, etc. Sometimes the handles and edges of the products are embroidered with small bamboo sheets.
Designs have put value to the products of Nungbi potters. The products could be seen in any of the craft exhibition of the State. In fact Machihan Sasa has travelled to other countries where he displayed his products and the sale at Delhi stall run by his son is a big sale.
The product is at the Classic hotel emporium where visitors from outside the State pick up to their choice. It is at the emporium and reputed stalls. The black pot glitters at the glass chamber with a solid looks at the shops.
The product is durable and the potters of Nungbi added much value to the pottery works of the State.  The government is planning for more outcomes with awareness programmes from the designers' inputs and subsidy distribution to encourage the work of the potters at Nungbi.
There is less electricity in the hamlet like it is in other part of the State; a generator is kept to run the stone crushing machine which is the power house of the whole pottery work at Nungbi. However costly for the mere income from pottery work the potters have to fetch fuel and run the generators to keep their work progressing.
Standardise product of Nungi Potters for Global Market
Eminent Designer Haobam Sukumar words to Nungbi Potters – "Designs put value to a product. If you simply make a pot it is priced at ordinary but if you put some designs like the weave at the beam with Canes it is a high price at the market. We need to prepare flux with the powdered stone and black soil in making the Pot. We can make varied flower pots to keep the market flourishing. We need to bring out standardise products. Machihan Sasa's son has standardised the black pot products at Delhi Stall and he is maintaining the trend by updating since years back. Sahi khuhi the bark of a tree is being used to polish the finished pot for giving a shining touch which is a good practice of Nungbi Potters.
Nungbi pottery works can make cluster under DIC. With this aim many things are coming up and we could set certain goals and prepare for a global market"
How Nungbi can become an Industrial Estate
 Kh Pandit, General Manager of Industries and Commerce Directorate has to say – Under Ministry of Textiles Handloom, Ukhrul has three clusters at present. Another cluster at Kamjong and Tolloi is opening up soon. 
Under Handicraft or MSME there is a possibility of establishing cluster in Nungbi . Everyone is making pots in their home. We cannot buy machine so we use our hands. If we have a cluster we can procure a machine.
We are expecting a lot from youths in setting up the cluster. We have cluster development programme. We need not write in full document. Just send a concept paper at the DC MSME website on possibility of starting a cluster citing advantage and disadvantage of setting up a cluster. If they reply yes, we can start up the cluster.
Once the cluster is given a go ahead, four steps will follow:-
1) Diagnostic Study– one needs to find out what is needed to start the cluster. Certain area to give thrust and finding out what is needed in setting up the cluster. Current methodology, more enhance profitable labour, thorough research on economical set up to save wastage and accelerate profit points. An NGO or the youths around can help. Ministry of MSME will give Rs 2.5 lakh for the study.
Study report will be send. The report will include training needed and machinery requirements.
After diagnostic study they will give soft intervention.
2) Soft intervention – Government will give Rs 25 Lakhs for EDP, Awareness programme, accounting norm, training including marketing trainings.
3) Hard intervention – Government will buy all the required machinery.
4) Infrastructural Development – For the welfare of cluster, banking facility, power supply road facility will be provided. Cluster projects are an undergoing progress of MSME.
Please think if you can start cluster, come to DIC office for guidance or directly visit the DC MSME website and submit by filling the form. We can start the four phase development addressed th general manager of DIC Kh. Pandit
He continued that an Industrial Estate is coming up at TN Kasom where the DIC have acquired 10.6 acre of land. In the next two years the cluster under MSME is expected to become an industrial Estate.
Scenario of Industrial Registration in Manipur
Officials of DIC have to say:-
Only two people are registered in DIC from Nungbi for their pottery industrial unit. One needs to file an Entrepreneur memorandum to register their industrial units. It helps the department to recognise the industrial set up.
Manipur has mere 625 registered industrial units/business enterprises so far. Ukhrul has 16 units, Imphal East – 195, Imphal West – 135, Chandel – 2, Senapati – 7.
Of the 625 units, only 4 are medium scale industry. Two of them are in Imphal West. They are Hotel Classic and Shija Hospital, another two in Senapati – Satyam and a Passion Fruit processing industry.
There are less medium industries in Manipur. We can work on micro and small industry.
Micro range industry plan and machinery should be above Rupees 25 lakhs.
Small Industry ranges from Rs 25 lakhs to Rs 5 crores.
If investment is between Rs 5 crores – Rs 10 crores it is medium enterprise.
Any industrial set up above Rs 10 crores is not under MSME and is under large industry.
In Manipur there are lots of unregistered Industrial Units and people should come and register their industrial set up.
Nungbi Potters
Recently the DIC has given subsidy to forty potters of Nungbi Khullen for encouragement towards pottery work. An Awareness programme on enhancing products and putting designs with prospect and market knowledge were also shared from various resource persons.  The awareness programme was conducted at Nungbi Khullen itself where the officials interact with the potters.