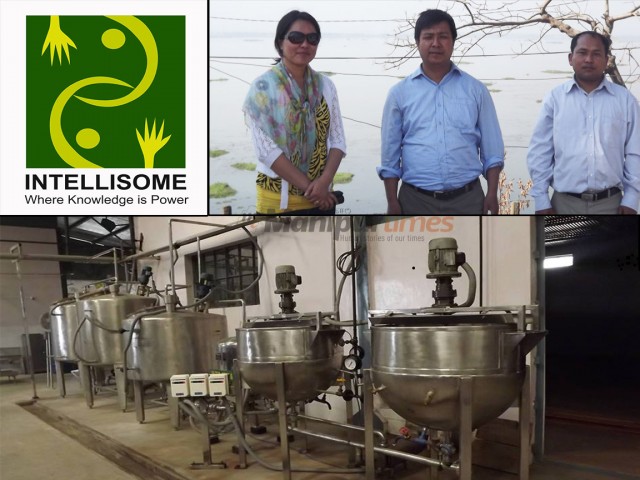 Looking for a way to translate your ingenious business-ideas into reality? Then, take a turn to drop-in at Intellisome Consulting, the latest consulting agency with a comprehensive service, located at Trade Centre, DIC Complex, Porompat Imphal. The firm is becoming a much-sought after by the entrepreneurs, enterprise community and food industry sectors for its dream-transforming initiatives.
This agency was formally launched in March, 2013 as a partnership firm by three like-minded persons to provide helping hands in filling up the immense void in the food industry sector of the state in terms of expert advice, and to help addressing the issues encountered by the business and food enterprisers.
During a candid chat with the Manipur Times (MT), its managing director (MD) Dayanidhi Huidrom said, "We, all of us, have worked as professional food experts in many food industries". He added, "Apart from that, we have also rendered freelancing services as per the demands from various state firms, later we realised the absence of such services in the state food industry sector. Anticipating good business opportunity, we put in collective effort to translate those services into full-fledged consultancy firm". He further maintained, "Our services are so comprehensive and inclusive that people could hardly find service like ours in the state."
Since its inception, Intellisome has been facilitating to create a business environment for many food industries, and it has provided winning-support to more than 10 firms of the state.
With its daring spirit to act as a catalyst for a change and industrial development, this agency is 'ready and waiting' to deliver its knowledge-based services to any kind of needs and requirements in the food industry sector. It has assisted many newcomers in product development, project conceptualisation and installation, plans implementation, facilitation on food-safety licensing, for both state and central licence etc, and even they have helped the clients in exploring and acquiring funds from funding sources and agencies for their trade operation.
Brain Behind Intellisome
Intellisome Consulting is being run by well-qualified and experienced persons from the food industry world, who are once food technologists, experts and instrumental mechanics in designing food-processing machines for many firms. The trio started their firm with just Rs 1000 with an old-table and a chair, managing director Dayanidhi Huidrom said.
32-year-old Dayanidhi of Khagempalli Huidrom Leikai has a long working experience in the food industry sector. He has given classes as a guest lecturer in a couple of food institutes. He holds a double Masters Degree, one from CFTRI, Mysore in Food Technology and another from the University of Manitoba, Canada in Human Nutrition.
And the firm's second managing partner, Premila Thiyam is a dynamic woman of 34 years of age from Moirang Lumkhai Bazar. Premila has earned an industrial work experience of more than seven years from different food firms. She has worked with firms like Parley Agro; Shimla Hills and few others as industries food technologist, food expert. She has also given her time as a part-time lecturer in few colleges and holds a Masters Degree in Science (Food Technology).  
The third managing partner is Premkumar Keisham, who is an instrument mechanic, an instrumental one in designing loads of new innovative machineries to suit the environment and client needs. He has a decade long experience in the field and has apprenticed with ITI.
Challenges of Intellisome
The expert trio said that though their partnership firm was initiated with just Rs 1000, the firm's cumulative dividend has now grown up to around Rs 2-3 lakhs per month as consultancy fees. When MT enquired about their consultancy charges, they said that their fees are dependent on the scope of works but they usually charge around 1-2 per cent of the total project budget.
Although, the firm is dealing with the food industry sector, it also assists both profit and non-profit making sectors with their array of services ranging from market research to data analysis and interpretation, besides its focused-services on food industry sector like Food Product Innovation (FPIn); Project Report Development, Documentation and Preparation; Senal (Sensory Analysis Lab); Packaging Design and, Machine Design and Fabrication etc. One of the latest serviceswhich focus on food industry sector is Innovation and Intellectual Property Management (IIPM). It makes plans toplay an advisory role for those who have ideas.
This agency is currently maintaining a good trade-rapport with firms like MATA, a food industry led by an NGO from Ukhrul that markets canned products like jam and jelly, ginger oil, squash, and slice vegetables and fruits items; Exotic JuicefromMao that deals with gooseberry juice; Hee-Yai from Bashikhong that markets packaged mushroom; Sairem Agro that produces noodles; Mamata Bakery, Modern Food and few others. Dayanidhi told MT that they recently have got an offer to work with Dairy Milk, New Delhi pertaining to food safety management.
When MT enquired about its future road map, the managing director said, "Till now, our services are concentrated and confined within the state, but we have plans for expansion in the entire NE region of India. He also said that many new projects are in the pipeline. We are about to launch Intellisome Food, possibly in February 2014, wherein we will market squash gooseberry, wild apple, orange, passion fruits, focusing on local-buyers".  He further maintained that they are looking to introduce the service of 'trading and marketing' which would concentrate on developing marketing and distribution networks.
When MT enquired about the challenges faced by their firm, he said that they have not met much agonizing difficulties so far but there are some issues of high work pressure and acute human resource restraint. He also maintained that a big disappointment is the presence of less opportunity in updating their skills and capacity for improvements in their trade.
One may follow the future developments of Intellisome at facebook page – Intellisome Consulting, Website : http://intellisome.in
[ecwid widgets="productbrowser search minicart" categories_per_row="3″ grid="10,3″ list="60″ table="60″ default_category_id="21230762″ category_view="grid" search_view="list" minicart_layout="MiniAttachToProductBrowser"]