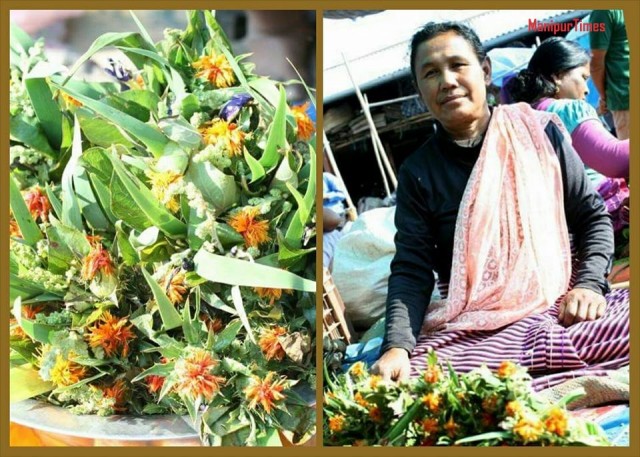 Sanahanbi from Konthoujam village; a woman vegetable vendor at Khwairamnand Keithel sells bunches of Kusumlei (Carthemus Linctorius), a flower signifying Sajibu Cheiraoba to be widely celebrated across the state which falls tomorrow on March 21. 
"Sajibu Nongma Pānba Cheiraoba" is the lunar New Year festival of the people who follows the Meetei sanamahism religion in Manipur. The name Sajibu Nongma Pānba derives from the Manipuri word 'Sajibu' the first month of the Manipuri lunar calendar. 
The Meitei person celebrates the festival with great fanfare; gatherings of the extended family and a sumptuous feast for lunch are 'de rigueur'. The day begins with ritual offerings of fruits, vegetables, rice and other uncooked food items to the Meitei deity Lainingthou Sanamahi during the early morning of the festival.
After getting blessings from Lainingthou Sanamahi, an even number of dishes is prepared using the offerings. Traditionally, the males of the house make the dishes, with the females helping in chopping and washing the ingredients.
After the dishes for the feast are made, they are ritually offered at two different traditional locations around the house: one at the front gate of the house and the other at the rear gate of the house. These locations are specially cleansed and sanctified before the offering by cleaning an area (around 2×2 feet) and decorating it with mud, flowers and leaves. Traditionally, the eldest son of the house will make the offering to these three deities – Kumsana Kumliklai (Lord of the golden year), Lamsenba Tusenba (Guardian of the Land) and Lammaba Tumaba (Lord of the land) at this sanctified area. The offering traditionally includes: an odd number (chang taaba) of dishes surrounding a small mound of steamed rice, a token currency, fruits, flowers, a candle, and an incense stick, all of them placed upon a plantain leaf. This ritual is performed in the late morning.
After this ritual, the dishes prepared for the feast are exchange with relatives/neighbours and this custom is called "Mathel Laanba" after which the feast will start. It is believed that on the day of New Year anything that happens on that day will happen for the rest of the year i.e. if you are happy and healthy on that day, you will be happy and healthy for the rest of the year.
After the feast, it is tradition that family members climb a small hillock specially prepared by the community near the locality to pay homage to the hill deity, signifying the elevation of the spirit to reach the divine.