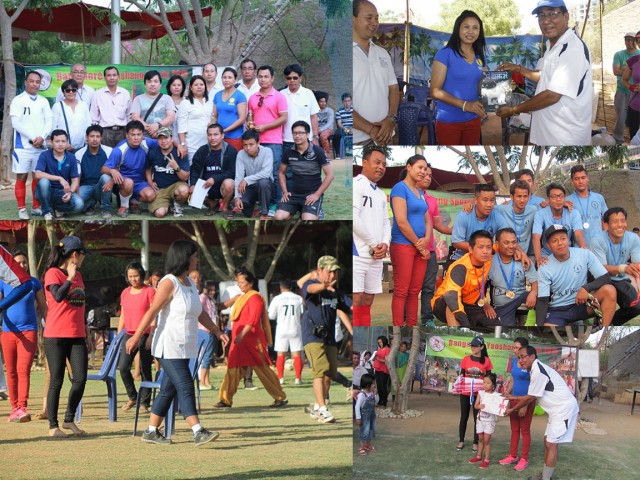 Wherever Manipuri are there, can sports and culture be far behind?
Heartfelt thanks to our Guest of honor, our iconic figure sister Laishram Sarita Devi and her husband, Thoiba Chongtham, who took out time from their busy schedule and has been very sportive to actively participate in our events and won prizes at closing day. Three Days of pure Sporting spirit, the adrenaline rush, the excitements, the heartbreaks, the fun, all in the true spirit of sports and Yaoshang. Gifts to all the Teams, all the Participants, all the volunteers, all the organizers and last but not the least, our guest of honor for making these event a Grand Success.
The only thing, perhaps, that brings cheers to and unites the trouble-torn Manipur and Manipuri  is the news and sights of our own young boys and girls beating champion from other states and nations to crown themselves and the proud people of Manipur with the ultimate glory. Sports and culture are god's gifts to us and they are our proud possessions. The world knows and respects us through them. And…. it also is a way of life for us!
It is only natural, then, the Manipuri community living in Bangalore had its fair share of competitive sporting events in the year gone by. The highlight of this year's calendar was the festival of Yaoshang, spread across three days, which was held under the auspices of MMAB, Bangalore.
The spirit and magic of Yaoshang was at its best on the last day, i.e. Sunday 15th March 2014, when the premises of Magnum Arena Ground, Sarjapur Main Road, located at Hadosiddapura, Chikkakannalli, was turned into a 'leikai', teeming with Manipuri (around 200 to 300 in number) from all age groups, including little children, without whom Yaoshang would never be complete.  As usual, sporting events, modern as well as indigenous, were organized and there was something for everyone in it.
Brief Result of MMAB Yaoshang Sports Meet 2015:
Badminton (Men's doubles)  Sunday, 8th  March 2015 at Gurukul Sports Academy, Siddapura,Whitefield Main Road, Bangalore – 560066, (Opposite shell petrol bunk).
               Winners: Sanasam Johnson Singh & Kangabam Ajay Kumar
               Runners-Up: Sanjoy Thoudam & Doren Mangang
Football 6 A-Side (3rd Srinivas Singha Memorial Cup) 14th and 15th March 2015 in Magnum Arena, 3/1, Sarjapur Main Road, Carmelaram, Hadosiddapura, Chikkakannalli, Bengaluru, Karnataka.
              Winners: CMU (Chikka Manipuri United) – A
              Runners-Up: KFK (Kanglasha Football Klub) – A
Table Tennis (Men's singles) and (Men's doubles)
Table Tennis (Singles):
            Winners: Hidam Armstong
            Runners-Up: Tekcham Roshan
 Table Tennis (Doubles):
            Winners: Hidam Armstong & Samarjeet Sanjenbam
            Runners-Up: Ahenba & Khumanthem Darvilin
 20 M Race Girls below 5 years:
            Winners: Sanaleika yumlembam
            Runners-Up: Dhaksika Oinam
Spoon Race Girls:
            Winners: Dhaksika Oinam
            Runners-Up: Sanaleika yumlembam
Blind Hit Ladies        
           First Place – Oinam Bidyaluxmi        
           Second Place – Langlen Yumnam
Needle Race Ladies 
           First Place – Oinam Bidyaluxmi        
           Second Place – Sushma Yumnam
           Third Place – Langlen Yumnam
Spoon Race Ladies  
           First Place – Konsam Anjali
           Second Place – Langlen Yumnam   
          Third Place – Puinabati Yumkhaibam
Musical Chair Ladies
           First Place – Puinabati Yumkhaibam
           Second Place – Linda Oinam
            Third Place – Laishram Sharita Devi
Water pot (Chafu Pubi) Race Ladies
            First Place – Laishram Sharita Devi
            Second Place – Romola Ngairangbam
            Third Place – Oinam Bidyaluxmi
Tug of War (Thouri chingnabi) Ladies
            Winner: Langlen Yumnam, Puinabati Yumkhaibam, Konsam Anjali, Sushma Yumnam, Arish Khumanthem, Oinam Linda
100 M Race Men       
            First Place – Priyo Tourangbam       
            Second Place – Arvin Oinam
            Third Place – Thoujan Thokchom
Spoon Race Men        
            First Place – Boicha Maibam
           Second Place – Nirmal Konsam
          Third Place – Prashant Laishangbam
Chess 
          Winner – Koijam Lemba
          Runner – Bobo