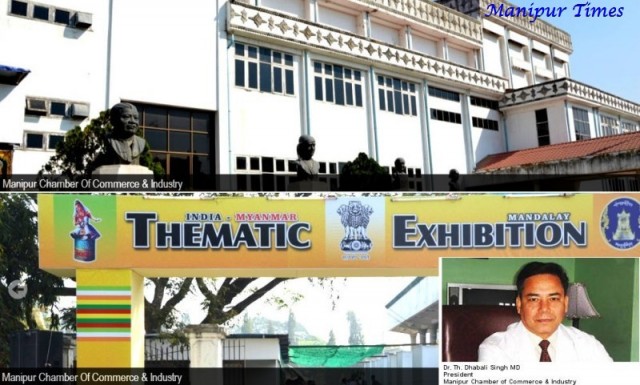 Resource mobilization, knowledge and manpower are to be strengthened first if Manipur has to tap maximum benefits from India's 'look east policy'. Moreover, unity, idea sharing and cooperation among businessmen are also necessary. The state government has also a great role to play in this regard. It is encouraging to see that Manipur government is taking keen interest in this regard in terms of development of infrastructure and road connectivity etc that two chief ministers from Myanmar are visiting Manipur to take part in Manipur Sangai Festival 2013 on state government's invitation. The two chief ministers are accompanied by many businessmen and industrialists of the neighbouring country and it will provide a good room for both the businessmen of the two countries to promote their business. Moreover, it will also help strengthening relations between the two nations.
Thokchom Budhabir Singh, General Secretary of Manipur Chamber of Commerce and Industries, an apex body of the businessmen, entrepreneurs of the state, in an interaction with the Manipur Times, shared his views on how Manipur is must prepare to take the benefits from the 'look east policy'. 
With erstwhile Manipur Chamber of Commerce has gone defunct for a pretty long time, some like-minded entrepreneurs, industrialists and businessmen of the state united and discussed the necessity of establishing an apex body that would safeguard their interest as well as promote trade and commerce of the state. After a long and thorough deliberation, Manipur Chamber of Commerce and Industry (MCCI) was established in January 2011 and registered under Manipur Societies Registration Act, 1989. Presently, the office of MCCI is located at Thangal Bazar. MCCI is affiliated to Indian Chamber and Commerce.  The organization's mission and vision are primarily focused on promoting trade and commerce in the state, and with other states and countries. Besides, MCCI organizes various seminars, workshops, conferences, exhibitions, fairs and other activities for accelerating all round development of the state. Though the organization is still quite young, it has already started taking up activities towards achieving its target. MCCI in collaboration with Manipur Handloom & Handicrafts Development Corporation Ltd., Artisans Cooperative Society displayed handloom and handicraft products of Manipur in an exhibition held in Mandalay, said Budhabir.
Till some years back, the number of Manipuri businessmen were less. However, there are many Manipuri businessmen and entrepreneurs now. It is a good sign of development in the state where the state government fails to provide jobs to everybody. When the state businessmen are capable to provide jobs to large number of youths and Manipur becomes a state of employers, dependency on the government for jobs will automatically come down.
"We have no future unless we generate our own income. For an unindustrialised state like ours, sectors like food processing, agro based industries, tourism, legal forest products, healthcare, infrastructural consultancy etc will always have high business prospects from the 'look east policy'. Running after government jobs alone will not do anything good in the state. Manipur is virtually surviving with the funds from the government of India and it is high time to think how long we should depend on the central government. We need to generate our own income to avoid dependency to others by bringing the sense of work culture. As such Manipur needs hard working and innovative entrepreneurs, businessmen and industrialists, he observed.
EXECUTIVES OF MCCI
Dr Th Dhabali Singh – President, Dr Kh Palin Singh – Vice-President, Mr Basudev Singh – Vice-President, Th Budhabir – General Secretary,  K Krishnakumar – Assistant Secretary, M Romesh Luwang – Treasurer.
Advisors – Prof GP Prasain, Dr Ch Ibohal, Prof E Bijoykumar, Dr Amar Yumnam, Yumnam Rupachandra, Md Anwar Hussain,Sukumar Haobam.
MCCI has 35 active members at present.
"So far, MCCI has no non-local member. However, we have invited them to join the organisation. Our organisation is not only for Manipuris or a communal organisation. Membership is open to all the businessmen, entrepreneurs working in the state. Let us unite and cooperate so that we can enhance the economy of Manipur in the light of look east policy", he appealed.
AIMS AND OBJECTIVES
1. To take up developmental works for the socio-economic upliftment for all communities, women and weaker section in         particular, by way of trade and commerce.
2. To arrange for setting up of orphanage, children homes, homes for aged, youth, tribal hostels, working women            hostels, community halls, sports complex, primary health centre, hospitals, schools, college, public library, mental  asylum  etc.
3. To encourage the establishment small scale industries, cottage and village industries.
4. To establish production oriented training centres in rural areas for the training of skilled workers with a view to      providing a sound technical base for rural industrialization programme.
5. To promote sound thinking in different fields of social welfare and to contribute to the developing of knowledge in the        field.
6. To protect and safeguard the interests of the weaker section of the society and to undertake special programme for  their  betterment; and to raise living standards of the weaker section of the society by providing them with adequate  work-shed  and housing facilities.
7. To establish and maintain hospitals, charitable dispensaries for women and children, maternity homes, child welfare  centres and institutions of similar nature and such similar children's home and orphanage centres in the state.
8. To formulate plans and prepare project reports for the development of specific regions or villages at the instance of        government or any local authority and to undertake the implementation of such plans and projects as may be approved or  modified by government or the local authority, as the case may be.
9. To bring welfare of the members of the organisation including recreational and medical facilities.
10. To conduct study tours, seminars, meetings, workshops conference, work camps, exhibitions for accelerating the     work for the development of the state.
11. To solicit obtain accept subscription donation grants, gifts request and trusts from any person from bank or local  authorities or corporate bodies like Khadi and Villages Industries Commission and State KVI Board and any institution  and  the union/state government.
[ecwid widgets="productbrowser search minicart" categories_per_row="3″ grid="10,3″ list="60″ table="60″ default_category_id="21294227″ category_view="grid" search_view="list" minicart_layout="MiniAttachToProductBrowser"]