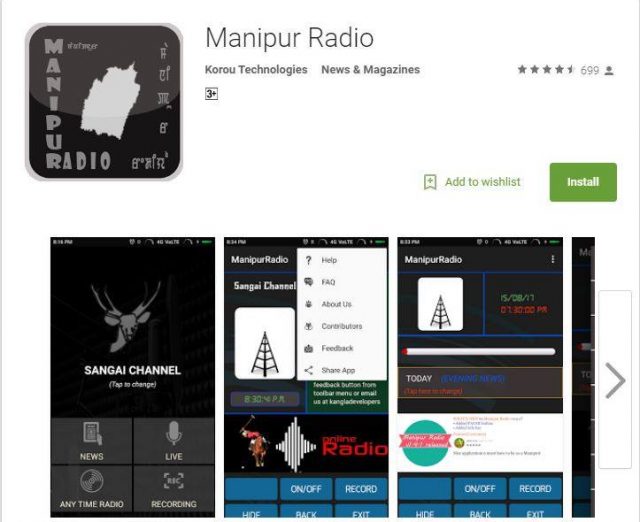 Manipur Radio is the one and only online Radio streaming application for All India Radio, Imphal, Manipur, a local Radio channel. Now, you can listen to AIR Imphal programs anytime and anywhere in the world. To use Manipur Radio, you would need an Android phone and internet on your phone.  Using Manipur Radio, you can tune in to Sangai Channel and Kangla Channel radio program. One of the most exciting features of Manipur Radio is that you can listen to radio programs broadcasted earlier even if you missed something. Some of the interesting features include
Record your favourite radio programs and listen to it anytime you want.
Listen to AIR news for the previous 7 days
The app is optimized so that it would consume minimal data from your phone even if you listen a whole day.
Radio programs are available in all major languages of Manipur including Hmar, Paite, Kabui, Thadou, Mao Tangkhul and Meeteilon.
Manipur Radio is made with the aim of spreading the richness of Manipur throughout the world so that people from across the world will know about Manipur.
Link: https://play.google.com/store/apps/details?id=com.kangladevelopers.manipuri_radio&hl=en
Contact us at [email protected]
Website: www.koroutech.com
Facebook link: https://www.facebook.com/pg/KorouT