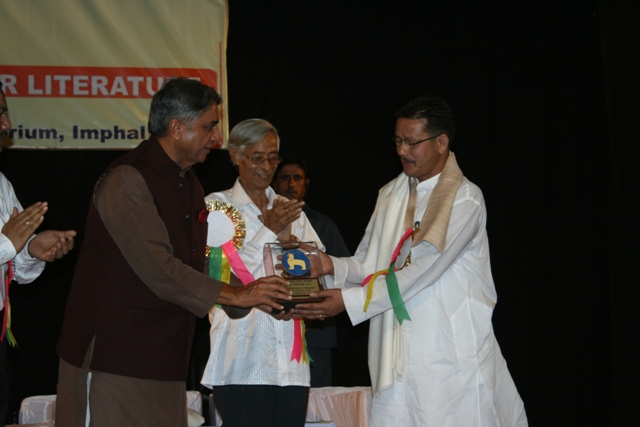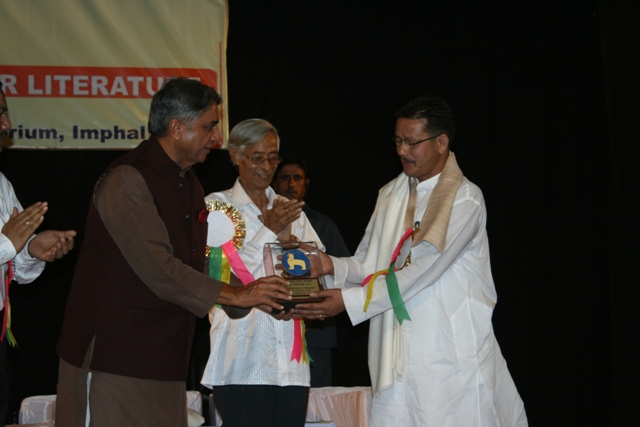 Imphal, June 17:  Manipur State Award for Literature, the highest literary award of the state was conferred to Birendrajit Naorem for his book, 'Turel Nangdi', a collection of poems, during a function held at JN Dance Academy hall organised by the Department of Language Planning & Implementation, Government of Manipur.
Governor of Manipur VK Duggal tuesday conferred the prestigious literary award to Birendrajit Naorem in recognition of his contribution in the field of Manipuri literatureas.
With governor as chief guest, the award presentation ceremony was also attended by Education Minister M Okendro Singh as president and eminent Manipuri writer Prof Elangbam Dinamani Singh as guest of honour. 
With a view to encourage the creative writers of Manipuri literature, the Government of Manipur has been presenting Manipur State award for Literature annually since 2008. The award, which includes a plague, a citation, a shawl and a cash component of Rs 3 lakh, is considered to be the highest official recognition for Manipuri literature in the State.
Speaking to the gathering, Governor VK Duggal applauded the state government for initiating such a literature award to encourage the outstanding creative writers for their contribution while adding thatsuch step would be instrumental in the effort of enriching Manipuri literature.
Manipur has made tremendous contribution towards Indian literature and we should all be proud that there is now no anthology of Indian literature which does not feature Manipuri works. People outside Manipur will know more about it, if there was a larger body of translated works, Governor said and advised the department of language planning and implementation, Govt. of Manipur to take up necessary initiative for translation of Manipuri works into other languages or vice versa.
He said that Manipuri literature can be divided into ancient, medieval and modern. The ancient works are mostly undated and anonymous and comprise mostly ritual hymns, cosmogony. Numit kappa, ougri are some classical example. Since 1973, after Manipuri language was recognized by Sahitya Akademy, 39 writers have been awarded sahitya Akademy Award and many of them have been given translation prize.  Creative writers in Manipur experiment in every genre and the enfluence of post modernism in literature is also reflected in Manipuri literature, he said and expressed confidence that Manipur literature will not only continue to enrich Indian literature but also the world literature.
He also advised the state government to accelerate the process and provide sufficient funds to the scholars who can contribute in the effort to declare Manipur language as classical Indian language.