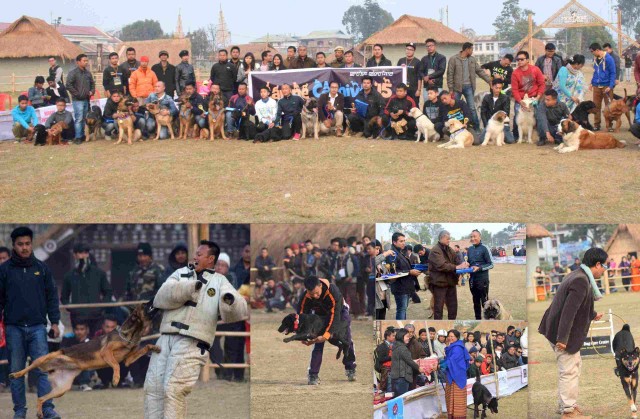 Canine Carnival '15 organised by Manipur Dogs Lovers Club(MDLC) kick-started at
11:30am
on Friday
at Hapta Kangjeibung Ground, with over 150 dogs belonging to 20 breeds participating in it. The festival of dogs under the theme, 'Stop Dog Meat and Health First', received an overwhelming response from dog lovers, making it a very successful event.
Over 2,000 people witnessed the event, exclusively meant for human's best friend. Our executive member Sunder. Kh gave the welcome address. Dignitaries of the event B Badanarayan Sharma,  chief guest, and  RK Nimai, president of MDLC, spoke on various topic concerning the four-legged animal.
"Purity of the local dogs is losing in the state. It is the need of the hour to save and preserve such breeds. Dog breed such as awanghui that belongs to Tankhhul hui group has almost lost its characteristics", RK Nimai, former IAS officer and president of MDLC, said. Animal activists Brinda Thounaojam and Bishwajeet also shared their experience and tips to handle the animal closest to man.
Veterinary doctors from Department of Veterinary Government of Manipur also showed their active participation in the medical camp held at the ground. At least 15 dogs that required medical care was treated
on Friday
.
Talents show was also conducted as part of the event. Trainers including Herojeet, Dilip, Kishan, Jotin, and Hollen showed their relationship with their best friends by showcasing some breathtaking stunts. The award for oldest dog was given to Blacky from yaikhul. The prize was conferred by Konita Thokchom in the name of his beloved dog.
MDLC would also like to thank all our media partners and sponsors for all their endless support.