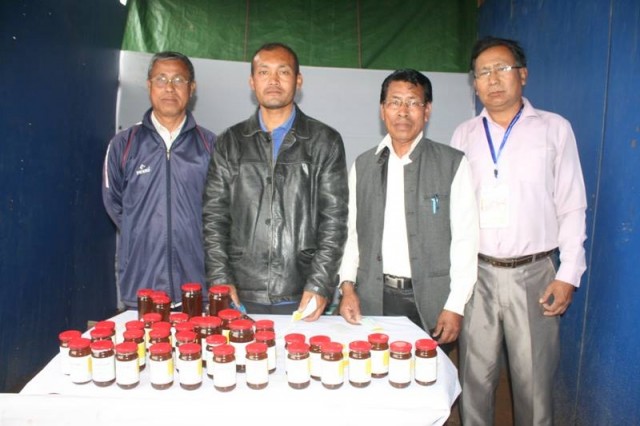 Given the favourable agro climatic conditions and rich agro-horticultural resources, the state has great potential for the bee keeping venture and the sector is fast developing in Manipur. Realizing the potential of this sector, many budding entrepreneurs have started taking up bee keeping venture.
"With costumers' demands on the rise, Bee Keeping becomes a lucrative business in Manipur. Believe it or not, a landless farmer can equally fetch a good income as that of a farmer who cultivates one Hectare of paddy field just by taking up honey bee farming with 15 Bee boxes. One can take up bee farming successfully as it requires less time, investment, manpower and infrastructure. With some small wooden Bee boxes costing Rs 1200 to 1500 a piece and a Honey extractor with filtration facilities costing Rs 5000 or so, one can initiate bee farming venture, said Aheibam Tarakishor, vice president Manipur Bee Keepers Federation, an NGO which is taking up various welfare and development activities for the bee farmers.
The bee farmer federation showcases its new honey brand Khunai recently launched in the Manipur industrial expo 2016 held at Lamboikhongnangkhong, Imphal west.
Around 900 farmers are producing honey yield under the federation. Federation markets Honey products harvested by the bee keepers, apart from providing bee boxes to the farmers. A local bee farmer can harvest 400 to 500 litres of honey yield in a season. Presently, the honey product of the farmers cannot meet the local demand. We are planning to open up more outlets exclusively for honey in all districts of Manipur to reach out the products to the costumers at any time.
In 2007, some like-minded bee keepers in Manipur united themselves and formed All Manipur Bee keepers Federation with an aim to take up welfare activities of the bee farmers while endeavoring to increase honey yield. The federation has opened up its district branches in all the nine districts of Manipur with 100 plus member Bee farmers each in every district. Under the umbrella of the federation, Bee Farmers in the state are producing honey to meet the honey demand of the state.
For the first time in the state, state level level honey festival was held at Kangla to showcase honey products of the bee farmers in the state.