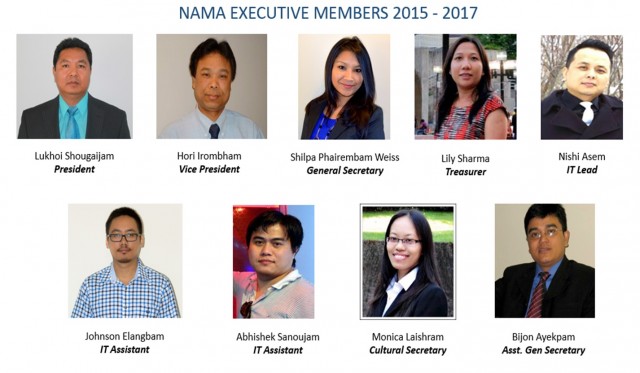 We all know that relocating to another country can be a daunting prospect. You are in a foreign place where you don't know the people or the customs. The experience can be an intimidating one. Should you stress about it though? Absolutely not! The North American Manipur Association (NAMA)can make you feel at home in North America.
We would like to take this opportunity to introduce you to NAMA. NAMA is a non-profit, non-political, educational, cultural and secular organization formed by Manipuris residing in North America. The objectives of the association are to foster and promote social, cultural, educational heritage of the people of Manipur in North America and to defend any such cause that affects them. An executive committee is elected through voting of members every two years.
Of the 200+Manipuris that reside in North America, approximately 80% are strongly connected with NAMA. Manipuris are spread out across many states in the USA and throughout Canada. NAMA can help you get connected with Manipuris across these countries. Here are some reasons why you should contact NAMA in advance if you plan to come to North America and if you want to make the most out of your life in these amazing countries.
NAMA is comprised of intellectuals who hold high positions in renowned companies. If you are interested in networking with these people and learn more about them, NAMA can make it happen. Networking with these people will help you learn about the U.S. and Canadalifestyle, work life, school life, quality of life and much more.
Moving to a new place will presentmultiple changes in your life. You need to get adjusted to the new environment, meet new friends and fight homesickness. Contact NAMA months before your trip, figure out the requirements, learn about what you need to bring and what you do not, what is to be expected and what is not, the cost of living and quality of life. NAMA has the resources that you need. All you need to do is to plan and prepare ahead of time by communicating with NAMA.
NAMA has helped several Manipuri students who are interested to study in North America by giving them guidance, providing resources and motivating them to study abroad. NAMA can answer any questions you have and advise you on educational experiences and challenges you may face when you reach North America.
NAMA will make you feel at home away from home. Become a part of NAMA and you will get to celebrate Manipuri festivals, eat Manipuri food, speak Manipuri language, and wear traditional Manipuri clothing in various events. Manipuris residing in North America work very hard to sustain the traditional Manipuri culture in America. The annual NAMA conventions celebrated in the month of Julyevery year will provide you an opportunity to interact with Manipuris across North America. On this day many Manipuris fly in from across the continent to meet and socialize and celebrate Manipuri tradition.
Giving back to the community:
NAMA has a proven record of supporting humanitarian causes in Manipur as well as Manipuris here in North America. If you are a generous person and if you would like to contribute to impact people's lives positively, there is good news for you. NAMA raises funds for specific causes and give back to the Manipuri community.
To become a member of NAMA, please register by using the link http://www.namaonline.org/register.aspx. Please note that this applies to only Manipuris who currently resides in North America.
We would be more than happy to connect with you. Stay updated with NAMA news by liking our Facebook community page https://www.facebook.com/North-American-Manipur-Association-NAMA-183898871646820/.
If you have any questions, please do not hesitate to reach out to us by emailing us at [email protected]. Please visit our website http://www.namaonline.org/ to learn more about NAMA.
Reported by the General Secretary of NAMA