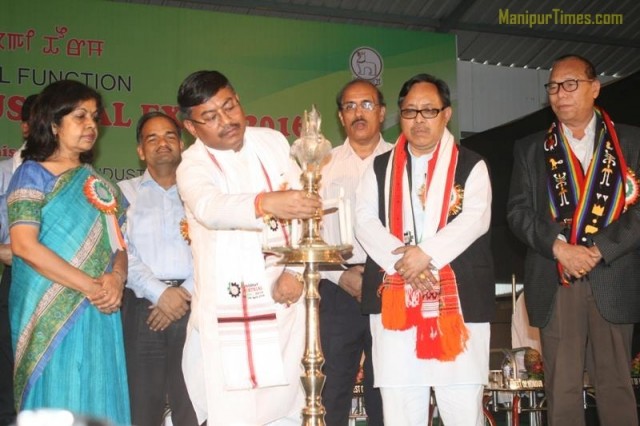 Centre okays establishment of another 3 industrial estates in Manipur – Govindas
IMPHAL, April 4: The first ever Manipur Industrial Expo 2016 kicked off today at Lamboikhongnangkhong, Imphal West with Manipur Commerce and Industries Minister Govindas Konthoujam liting the inaugural lamp. "Objective of the expo is to showcase the local industrial products to attract the investors and to learn new things for higher with better industrial products in Manipur. The expo is a plateform where both the outside and local products could be seen under a single room", Manipur Commerce and Industries Minister Govindas Konthoujam said.
While lauding Ministry of MSME, Government of India for sanctioning six industrial estates in Manipur, Minister Govindas Konthoujam said that foundation stone for three industrial estates will be laid on April 9 by the Union Minister. He further informed that Ministry of MSME has also approved in principle for setting up of another three industrial estates for the districts of Imphal east, Senapati and Tamenglong. With this, the dept will have complete infrastructural development for industrial unit though it does not suffice the growing demands of entrepreneurs, he added.
Works Minister Th Ratankumar, Uripok A/C MLA L Nandakumar, Lamsang A/C MLA W Brajabidhu Singh, Secy of Textiles, GoI, Rashmi Verma (IAS), Chief Secretary of the State O Nabakishore (IAS) and D.C (Handlooms, Ministry of textiles, Alok Kumar (IAS) also attended the inaugural function.
State commerce and industries Commissioner VK Dewangan (IAS) said the expo is a vision of CM O Ibobi to boost more employment avenues in the already unemployment ridden state. He said the Expo aims to promote the Industrial products, Handicraft, Handlooms, Agro processing, Forest products, Animal husbandry and so on. It is the first of its kind to organize such combination of Industrial Expo, National Handicrafts Fair,National Handloom Expo & National food processing Expo in the state.
The Industrial Expo 2016 will conclude on April 10. A total of over 630 stalls of weavers, artisans, entrepreneurs, small and medium enterprises, society, NGOs, Associations, service providers, hotel and industries showcase their products in the expo. Stalls in the following category will be exhibited: 1) Handloom Products, 2) Handicraft products, 3) Small and Medium Enterprises products, 4) Package Food products, 5) Food court for various industrial food items, 6) Promotional programs like social programme, automobiles, Army etc, 7) Service provider like healthcare, IT, Tourism, Tour Operators etc, 8) Industrial Tools, appliances, equipment and mechanized machines and 9) Cocoon Mela of Sericulture Department.