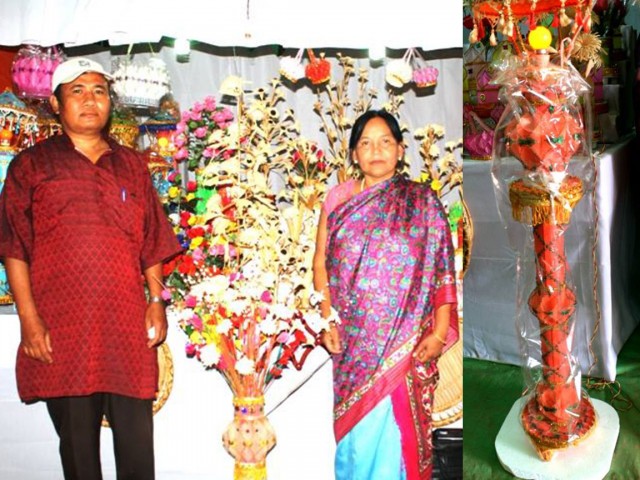 Heikrujam Sumila Devi (53) is a multifaceted artisan who carves a niche in making and designing various decorative craft items out of Cane and Bamboo, woods, plastic and fabrics.
Sumila Devi, wife of Ganashyam Heikrujam from Sagolband Thangjam Leirak, Imphal had bagged meritorious award conferred by state commerce and Industries department for her artistic craft "Decorative Golden lamp" embroidered with different motifs.
Her Decorative Table Lamp being displayed in the Manipur Industrial expo 2016 is another point of attraction for many tourists and festival revelers, the lovers of handicraft products.
Artisan Sunibala has also been able to provide jobs to may budding Artisans at her handicraft training centre located at Sagolband Thangjam Leirak.
She gets full support from her husband Ganashyam Heikrujam, government employee. "Credit of my success in the craft venture goes to my husband without whose support the success would not be possible", she said.
She makes different decorative Items like flower (Chandramukhi, Rose, sunflower), flower pot, table lamp are made with cane and bamboo, woods, plastic and fabrics etc. She said that the price of her Table lamp is fixed at Rs 3500.
She said that among her craft items, decorative Table Lamp is in high demand.