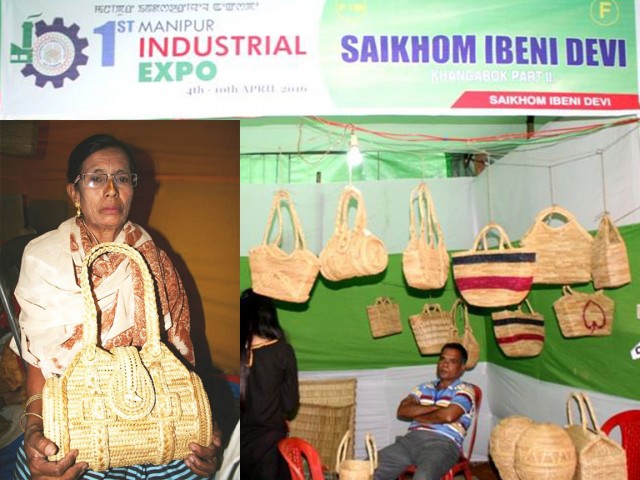 53-years old Saikhom Ibeni Devi from Khangabok is a success Kouna Craft artisan who has been honoured with the state Master craftsperson Award in 1998 by the State Commerce and Industries Department, Government of Manipur in recognition of her artistic oeuvre in Kouna made Ladies bag. She has been in the Kouna Craft for the last 30 years and supporting her family economy with the craft.
Despite her elderly age, the lady artisan shares her unflinching contribution towards promoting and popularizing the Manipur Kouna craft who is in high demand from many parts of the globe. She makes various Kouna craft items like Phiruk, Mat, Mora (stool), Cap, Shoe, Ladies Handbag, Purse, Cushion, Make-up-Box, decorative house model, etc. under the banner Economic Development Self Help Group.
Her Kouna industry has come as a boon to many jobless woman of Khangabok area as it provides employment and training to other aspiring Kouna craftsperson.
It is providing employment to 15 women of the locality.
Earlier, she had popularized the Manipuri Kouna craft in several Handicraft exhibitions held in different parts of the country, including Delhi, Bangalore, Chennai, Rajasthan, Guwahati etc. Some outside companies have also have expressed willingness to purchase our products in bulk, said Ibeni.
She sells Phiruk at Rs 1800, Mora at Rs.1800, Cap at Rs 300, Ladies Handbag designed for office goers at Rs 700, Mat at Rs 600, Cushion at Rs 300, Make-up Box at Rs 300, Shoes at Rs 300.
"Kouna craft has been a gainful economic activity for the local artisans with the demand of Kouna product on the rise in the market. Kouna Craft Artisans need not worry for market since this particular craft has been one of the flourishing industries among other Handicrafts in the State with abundant source of raw-materials and markets. Kouna products have not only local market demands but also demands from outside the State", she maintained.
Mrs Ibeni Devi is wife of Nimaichand of Khangabok part-II Mayai Leikai Thoubal district.The green Kouna plants grown by her husband Nimaichand in their two acre sized field at Khangabok can sufficiently feed the requirement of her Kouna Industry.
The artisan who studied upto class X learnt the skill of Kouna craft from her husband. She also underwent a month long training on Kouna Craft organized by a Wangjing based NGO Rural Development Organization some years back..