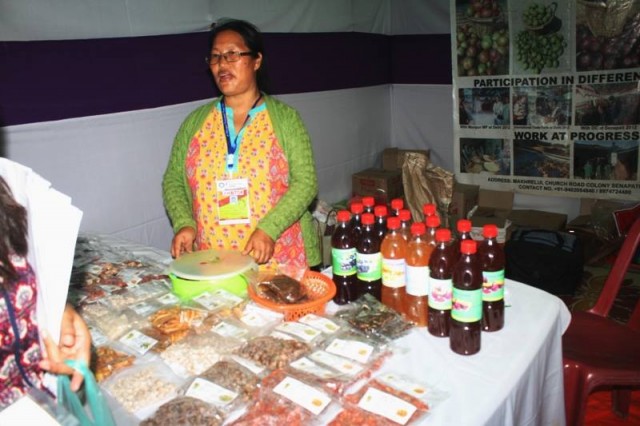 Mrs. D. Helen Nishi is among the Manipuri tribal women successfully taking up a food processing industry to provide employment to many jobless and help the state economy.
She transforms varieties of luscious seasonal fruits collected from different hill villages of Senapati into new zest of taste in the form of pickles, fruit candies. She prepares varieties of fruit candies and pickles out of locally available Pineapple, Sour Apple, Gooseberry, Plum, Ginger, Sour Apple salty, olive, Heimang etc under the brand Barak foods.
Her products are made available in Senapati bazar, Imphal, Kohima and some other towns.
Mrs. D. Helen Nishi (43) is wife of Puni from Makhrelui village of Senapati district. The lady entrepreneur initiated her fruit processing venture in 2009 after she attended a monthlong training on fruit processing conducted by the district industries centre (DIC), Imphal east. She also upgraded her skill in fruit processing training course organized by Meira foods, Imphal.
"Such training course highly motivated me to start my venture. Senapati district, a hill district of Manipur, has abundant seasonal fruits and vegetables. However, these seasonal fruits often go waste and decay as they are not properly processed and preserved. After the training, the idea of transforming the locally available fruits into new zest of taste clicked my mind," Heln Nishi said.
Mrs. Helen Nishi is an arts graduate from GP womens' college, Imphal. In 1994, she got married with Puni, a cultivator by profession and she has been a mother of one son and two daughters.
After marriage, it was hard to maintain the family needs with the meager income of her husband. Severe financial constraint in the family messed up the marital bliss of the couple, engaging them in frequent squabbles. Compelled by poverty, Helen Nishi looked out for alternatives to support the family. She started preparing fruit pickles and candies with the raw fruits available in the hill villages. At first, her husband did not encourage her saying that such business would not be viable. With the business booming gradullay, her husband started supporting her.
Helen said that she can fetch a satisfactory income, apart from providing to jobs to some local women.
She had popularized her brand during the festivals held in different parts of the country like Kolkata, Delhi, Shillong and Manipur Sangai festival and Saras fair held at Imphal.