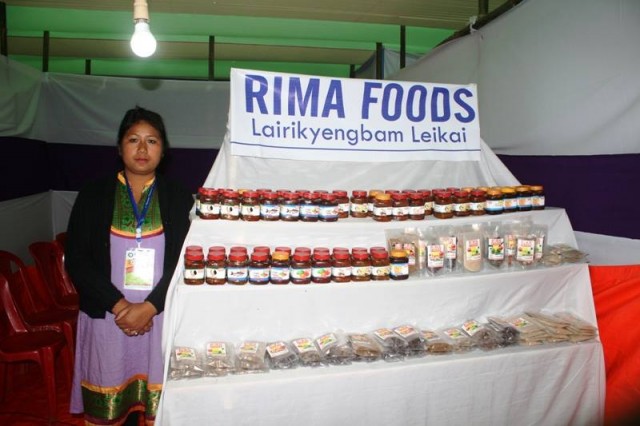 22 years old Laishram Rima Devi is a budding entrepreneur who believes in exploring alternative ways to make herself economically self reliant rather than depending on others. Rima tries to show that jobless youths can explore alternative ways for livelihood by initiating her own venture. Rima Devi is third daughter among four daughters born to Laishram Ibomcha of Khurai Lairikyengbam Leikai.
She initiated her Rima foods in 2014 with a working capital of Rs 20,000 after undergoing month-long training course on food processing conducted by District Industries Centre (DIC) Imphal east. She has been able to provide employment to three people of her locality. She also took part in a training course in food processing in Guwahati organized by MSME.
Currently, Rima foods prepares sweetie, salty and pickles of various kinds. Candy Items include wild Apple Candy; Pineapple; Amla (Indian gooseberry); Olive (Chorfon); Plum (Heikha); Mange-Ball (Tamarind); Heibung etc. Pickles items includes, U-morok pickles (King/Big Chilly), Shoibum (bamboo shoots), Mushroom, Chicken, Ngari, Mango, Olive, ginger, Heimang, Hawaijar and other mixed pickles. She said that a few other new products are in the process of launching shortly.
She said that her brand have covered Imphal areas including Sangakpham Lamlong, Chingmeirong areas. Her product can reach Delhi, Gujarat, Kolkata.
Rima passed matriculation from Pari Imom Shindam Shang, Pangei and science graduate from Naorem Birhari college. She had a passion for entrepreneurship since childhood and was motivated by her father to initiate such a venture. "Apart from pickles and candies, I am planning to launch noodles product this year", she said.
She said that her dream to expand her business to create more employments avenues for the jobless and increase production capacity could not be fulfilled due to financial constraint. She needs a working capital of above Rs 50 lakhs for the purpose.
She is taking part in first Manipur Industrial Expo 2016 (Stall no P-255)