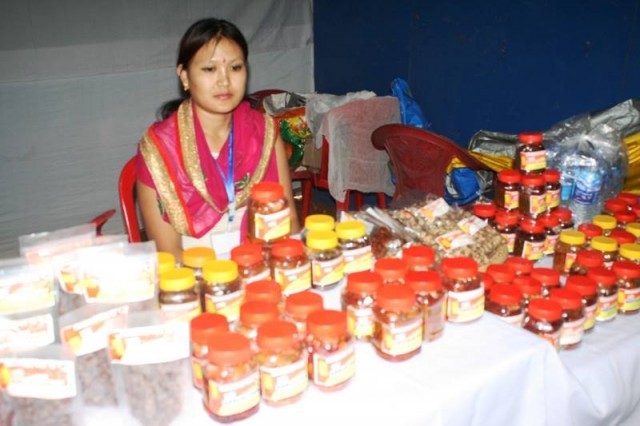 At her tiny house located in Khurai Thoudam Leikai in Imphal, the 36-year-old Chongtham Neera Devi is busy preparing varied pickles and candies with the locally available seasonal fruits and vegetables. She took up her food processing venture in 2014 and her Maniya foods product can be mentioned among the success brands in the state.
Chongtham Neera Devi is the wife of Chongtham Sunilkumar who is also businessman by profession. Neera is a graduate in Home science from GP Woman college Imphal and took up her business with the unflinching support from her husband. She admitted that the moral support of her husband and other family members is also very important factor in running her business successfully. She also feels that a woman needs to know some tactics to manage both family and business at the same time. While running her business she never skipped her family's activities as well. She further informed that some of the challenges in business are limited opportunity to avail bigger financial support, irregular power supply, general strikes, blockades and price fluctuation.
She said that till now she didn't approached to any financial institutions for funding as it requires many time consuming security documents. Initially, she focused only pickle items. With the venture booming and demand from costumers on the rise, she started preparing pickles and dried fruits. Maniya foods is now a FSSI certified company.
Mother of two daughters and one son, Neera said that she can maintain her family with the income from the job comfortably. Her products have started hitting the stands in local market including Jiribam. The company is named after her eldest daughter Maniya. The idea of starting food processing industry struck her mind after she underwent one month training course on food processing conducted by District Industries Centre (DIC) Imphal east. She started collecting locally available seasonal fruits and vegetables to transform it into new zest of state in the form of pickles and candy. Currently, Neera has been able to provide Employment to eight people