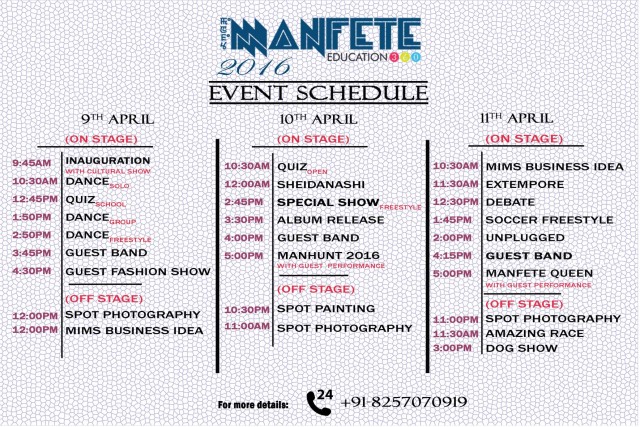 MANFETE, the annual management festival organized by Manipur Institute of Management Studies (MIMS) is scheduled to be held on 9, 10 and 11 April 2016 at Manipur University Centenary Hall.
The festival provide the youths (specially students) of all the schools and colleges in the state a platform to show their talents and skills in front of large audience at Centenary Hall, MU. The festival will be adorned by some of our generation's favorite events like Quiz Competition, Debate, Ex-tempore speech, Painting competition, Amazing race, Spot Photography, Sheidanashi (Song Competition), Unplugged, Manhunt, Manfete Queen, Guest band live performances from ReCycle, The Wishess, Pulse Pundit etc, Guest fashion show from the popular Manipuri actors and also from the  fashion giants Halley Laithangbam and Leo Leishangthem.
The opening day will be flash perform by one of the most reputed "Laihui" Artists lead by the folk Singer Donna Ngairangbam (National Children Award winner, Natyshree Award Winner and more). This year MANFETE look forward for making special way for the talents specially in the MANFETE Queen & MANHUNT winners 2016 a plateform to showcase their talents in a manipuri music album which will be sponsored by Charles Films Production.
The events will be lively broadcast by the local cable tv network ISTV, and live streaming of the events will be broadcast by KUMHEI.com. In addition to these TANTHA is heading us for the first time to be our online partner, they will be collecting events videos related to entertainment events only.
Nachom, Babupara Imphal will be sponsoring us various flower bouquets for the events. As a part of MANFETE, the organizer has opened its door to the sponsors by providing a platform for Business Expo to showcase their uniqueness. Entry fee is being charged minimally at Rs 20 per head. For more updates logon to-
Contact: +91-8414028119