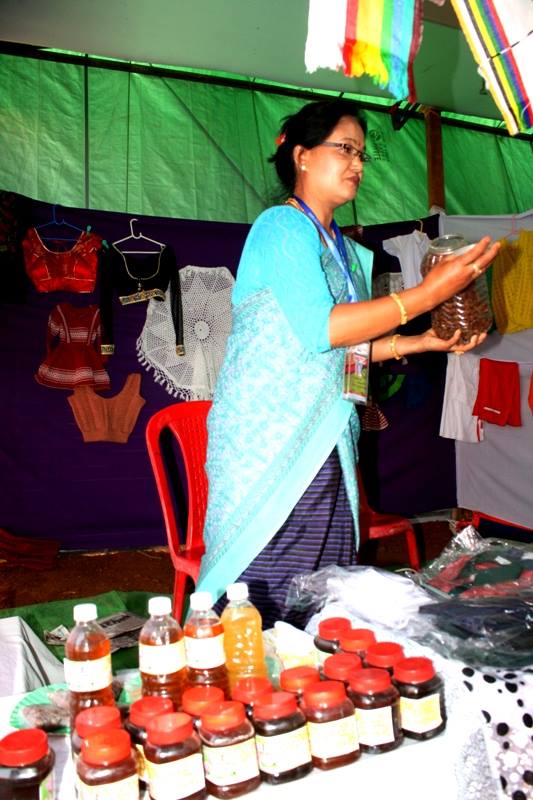 Naorem Ningol Yumnam Ongbi Arundayanti Devi, (50 years) hailing from Nambol Oinam, is a success woman entrepreneur who prepares varied pickles and candy products under the brand Arundayanti Food Processing. Her industry is distinctively transforming the luscious seasonal fruits and vegetables of the state into a new zest of taste in the form of pickles, fruit candies. The success story of her food processing industry was not scripted overnight but it was developed after prolonged hard work and struggle.
Arundayanti, a science graduate in Zoology has been able to provide employment to some jobless women of her locality. Her industry produce varied pickle items such as fish, Chicken, Pork, Beef, Ngari, Thumyakpi and Khajing and Khajing for non vegetarian groups and Soibum, Umorok, Mushroom, Hawaijar Akangba, Garlic, Turmeric, Heiribop, Mango, Hangam (Mustard), Olive, Heimang Makup, Heitup, Heiku, Mange, Heining, Morok Atekpa (fresh Chilly), Heikru (gooseberry) for vegetarian groups The lady entrepreneur is also taking up honey bee farming successfully under the brand Tanglei Khoihee, apart from processed food. She got married with Yumnam Rajen of Oinam Kangjeibung Mapal, Bishnupur district, Manipur and she is now a mother of one son and a daughter.
Her husband is a councilor of Oinam Naga Panchayat, who extend his best support to his better-half in taking up the business successfully. With only five Bee Boxes, she initiated bee farming as a hobby. Buoyed by the initial success, she increased the number of Bee boxes to 15 which gave her good honey yield. Bee farming has now been a thriving and lucrative business for me as I can comfortably supplement my family income, maintained she. She also collects honey from her locality at whole sale rate. Her younger brother also supplies honey.
"Entrepreneurship is my passion and setting up of a food processing industry is mainly to provide employment to the jobless local widowed women who are eking out a living with the meager income they earn from casual jobs. Many widows are struggling for their children and families, to keep the kitchen fire burning. I want to empower them, lift up their economic condition", she said.