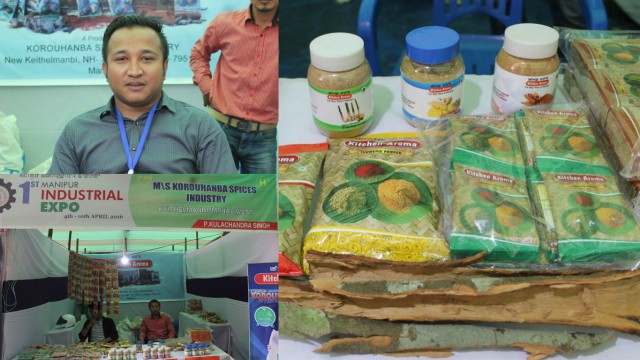 Food Processing Industries sector is fast developing in Manipur. Given the agro-climatic conditions, the State has rich agriculture resources. However, the state still hinges on others for essential commodities. Kourouhanba spices Industry is an upcoming brand to cater the local needs of spices in the state. The Industry based at New Keithelmanbi was newly launched in the state on Nov 16, 2015 and is showcasing its products at the ongoing Manipur Sangai festival 2015 at foot stall.
Presently, the new Industry manufactures Chicken Masala paste made of using Ingredients like turmetic, coriander chilli, cloves, black pepper, Fennuhreek, Ginger, Ngang, cardamom, cinnamom, garlic, edible oil and iodised salt; Garam Masala; Vegetable Masala; chilli powder; Ginger powder; Jeera powder; Turmeric powder; Coriander powder; fish Masala; Meat Masala; Kitchen queen; Mustard powder; Coarse Mix spices made of using ingrediants – cumin seed, coriander seed, black pepper, Fenugreek and blended spices.
P Kulachandra from Haobam Marak is the Chief Executive Director of the Industry. Around 20 men are working in the factory. Rameshor, manager Marketing and distribution of Kourouhanba Spices Industry firmly believes that the "society can attain the rightful status among the other communities only when we can achieve economic independence. He said that economic independence can be achieved only when one can optimally utilize the resources available. Due to lack of natural resource like minerals, coal, oil etc., the State depends on "agri-horicultural produces" for our economic development, said Kulachandra. He appealed to the people to support the local brands to save the huge money money being drained away from the state.