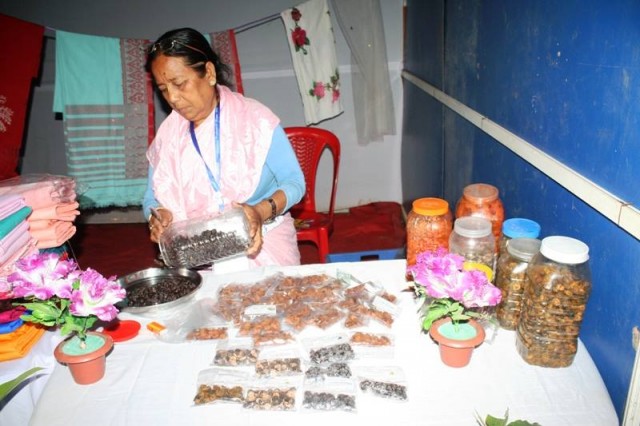 Panthoibi Foods products are being displayed at stall no I-284 of Manipur Industrial Expo 2016.
Left by her husband at an early age of her 24 years of age, Maibam Ningol Hijam Ongbi Mema (58) a woman entrepreneur from Thoubal Wangjing Hodamba had to experience a bitter life. She had to take up many odd jobs to maintain the needs of her family and feed her starving sons. Mema is the wife of Yaima of Wangjing Hodamba, a truck driver by profession. Her husband died in a road accident in Assam. Untimely demise of her husband left a vacuum in the family, prompting her to work in any available job a woman could do. Mother of three sons, Mema worked in the paddy field, sometimes as a vegetable seller in market to maintain her penury driven family. Now, her sons are fully matured. Eldest son is serving in Assam Rifles while another son is doing his own business. She can now breathe a sigh of relief.
With a small working capital, she initiated preparing pickles and candies with the locally available fruits under the brand Panthoibi foods some years back. She sells her products to local schools, government offices and local retail shops. She also deals in nurturing nursery sapling of gardening purposes. She has provided saplings to Tentha, Langathel, DC Thoubal office, Thoubal Co-operative office.
The idea of transforming locally available fruits into new zest of taste clicked Mema's mind after she saw many fruits like gooseberry, Boroi, Mango going to waste and decay due to lack of proper preservation and processing