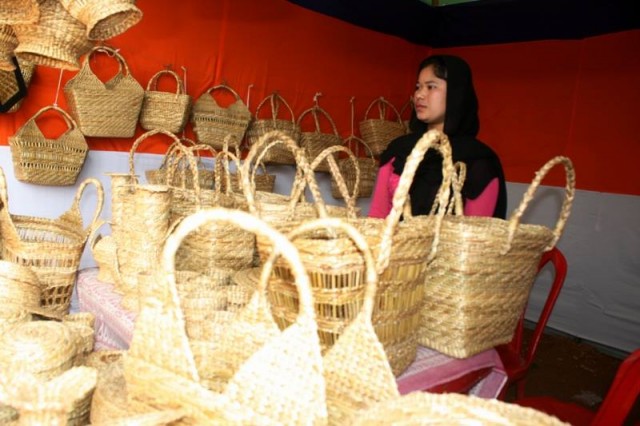 Handicrafts of Manipur have a unique place among the various crafts of the country and have aesthetic and artistic value. Chumthang, a plant available in abundance in the Loktak Lake on the Mayang Imphal site has been common knowledge in the state for ages but was never given the importance it deserves. It has come to the fore yet again today having become the source of income for a sizable section of the society, showing its potential in providing livelihood in an economically backward state like Manipur.
Miss Nazima (26) D/o late Alimuddin from Mayang Imphal Bengoon is one such artisan who designs varied craft products out of Chumthang to support her family. She is the third daughter among six siblings of which 5 are daughters and 1 son. The craft has been a main source of livelihood for her family. Nazima's brother Fajur Rahim is also supporting her venture in the craft. Lady's bag, Jewellery box, tool, Flower pot are among the craft items she makes with Chumthang, a plant locally available in plenty in nearby lake and marshy area of Mayang Imphal. Craft products made of Chumthang is more durable and stronger than Kouna and it cane washed with detergents.
Brought up in a penury driven family, young artian Nazima had to discontinue her studies after class X to support her family. She embraced the family legacy in Chumthang craft. she participated in a training of one month organized by Rural Development Association in her locality eight years back (in 2007). That training was so important to her random life that it could bring her to State Merit Award in 2011. A multi-bulb lamp stand was the model on which she won this award. She came across various hardships unto this position she stands today. He work for which she was recognized was her lone struggle and self-induced work.
In 2013 she received State Award for her masterpiece i.e., Yengrung-an object wear over head to protect from Sun, rain or frost etc while working. Making that Yengrung took nearly 17 days and she did it by working 3/4 hours per day. She has been able to provide employment to around 30 people in her Chumthang craft Industry. To expose more of her work, she took a stall in Manipur Industrial Expo 2016 where she can display and sell her Chumthang handbags and flower-pots ranging the prices at affordable rates from Rs. 250 to Rs. 450.