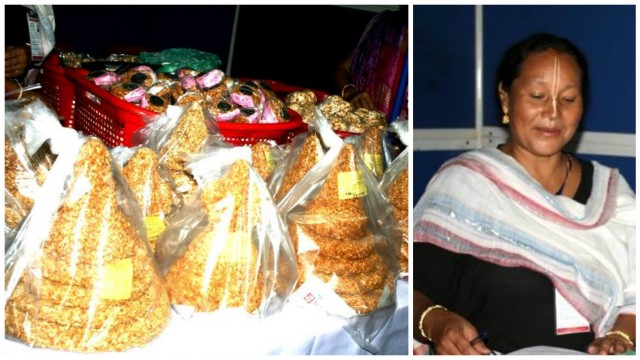 Locally known as 'Kabok' is a popular Manipuri staple food item made of fried or puffed rice. This particular Manipuri food product is indispensable during religious rituals and ceremonies of Manipur, the Meetei community in particular.
Thingbaijam Sanatombi is such a lady entrepreneur who endeavors to promote the indigenous Kabok made of varied flavors and taste with indigenous composition. Sanatombi is the wife of Thingbaijam Manihar from Irengbam Mamang Leikai, Bishnupur district and she initiated her venture in kabok making since 2013. She learnt the skill of Indigenous Kabok making from her mother RK Ngoubi. Sanatombi's maternal family originated from Tripura. The family came to Manipur as refugee and settled in Bishnupur. Her mother maintained the family by making indigenous Meetei Kabok items. She used to observe keenly the activities of her mother making Kabok at home with some local women. It impressed the young girl very much that she sometimes joined her mother in making kabok. As such, she could inherit the skill of Kabok making from her late mother.
Her indigenous Kabok products includes Thoiding Khoibak, Thoiding Kangshubi, Kabok Aphaba, Akhingba, Kabok Muri, Kabok Afaba, Kabok Khoidum,Chujak kabok, Kabok Khoibak, Hamei, Thoidingkabok, Sana Kabok, Kabok boon, Phou khoibum, Kabok Akhingba, Lalu of small and medium and size, Chini Heingal, Chengpak, Chuhi and many others. She also engages a local elderly woman namely Tombi from Irengbam village, a veteran kabok maker.
"Frying of rice in hot Pan during kabok making process needs well expertise in the field. Otherwise, the taste of the Kabok is spoilt," Sanatombi said. She maintained that indigenous Manipuri food items locally known as Kabok are simply made by mixing the fried Rice with hot sugarcane juice added flavor while Chengpak is made by flattening the Rice after boiling. Lalu, an oval shaped edible item is made from the residues of kabok making process.
Sanatombi personally used to prepare the Kabok items at her home with the help of her daughters and other local women. The finished products are sold to the local shops at Nambol, Bishnupu Bazar, Moirang and others. "With various processed food items of outside brands dominating the local market and the younger generation ignoring the indigenous food items, Indigenous Meetei Kabok items are virtually losing its place and values in the market. In past Manipur society, Kabok was commonly used as Ngamok. The term Ngamok is fading away from Manipur society," she lamented