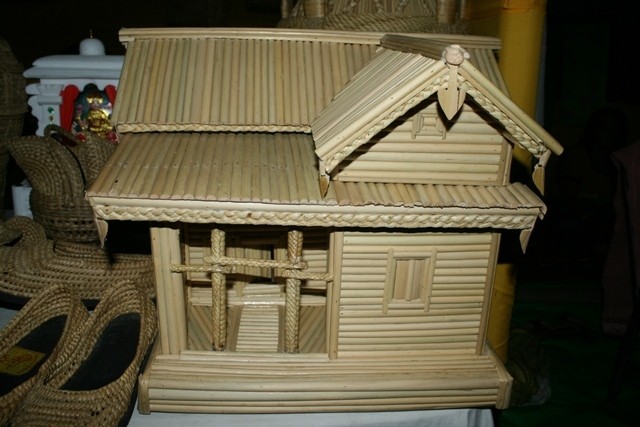 The Artisans of Social Economic Development Self Help Group, Khangabok part-II, Thoubal district is attracting the visitors with their artistic model of house made of Kouna (water reed) in the ongoing 8th Saras fair 2014 being held at DM College campus. 
Under the aegis of Rural Development & Panchayati Raj Department, the 12-day long 8th Regional Saras Fair 2014 is organized by Manipur State Rural Livelihoods Mission with the objectives of showcasing and promoting the local handloom and handcraft products  the fair concludes on October 24.
 The self-help group " Social Economic Development Self Help Group " is no doubt specialized in making various products like Mat, Lady's bag, Cap, shoes etc using water reed. It has been able to help the local women living in and around Khangabo area in making their living while providing training to other aspiring Kouna craftspersons. We have received good demand and feedbacks from the costumers so far. During the fair, we have sold various products designed by ourselves of worth more than 50,000 as of now, said secretary, Social Economic Development Self Help Group Saikhom Ibeni Devi.