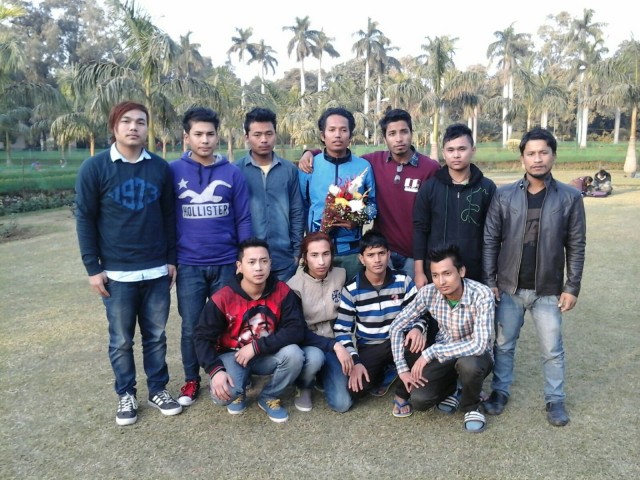 MANIPUR STUDENTS' ASSOCIATION DELHI (MSAD) held a welcome reception on December 24, 2015 at Delhi University Garden for Moirangthem Raj who has won one gold and one silver medal in the recent Archery Championship organized by Delhi Archery Association. MSAD has congratulated him on his achievement and wish him for a grand future in his ongoing career.
Moirangthem Raj is the son of Moirangthem Ningthembi and Moirangthem Jamuna  Leima of Yairipok Yambem , District-Imphal East, Manipur. He was the student of Vikas Archery Academy under the guidance of Jamini Laishram, mother of Manipur Olympian Bombala Laishram. Currently, Raj is a third year student of Mathematical statistics in Ramjas college, Delhi University. Besides this, Raj is ready to represent the Delhi University in the "ALL INDIA ARCHERY CHAMPIONSHIP 2016'' at Patiala, Punjab. He is planning for 2020 Olympic Games in Tokyo.
On the reception ceremony, MSAD President Miraj Shah Kori hailed the achievement of Mr. Raj which elevates the pride and honour of Manipur and urges other fellow Manipuris to follow the suits of Mr. Raj in their fields of interests staying in different parts of the worlds.
Moirangthem Raj told the story of how he become a National player. He also mentioned the problem he faced including the financial constraints that has been a common problem to all the sportspersons in Manipur. He also wanted to draw the attention of concern authorities mainly the Sports Ministry of Manipur and Union Government through MSAD to help him in acquiring the standard sport kids.
He recalled the contributions and extended his heartfelt gratification of the role of his parents, his prime coach namely Jamini, Bombala and his College Principal,          Dr. Rajendra Prasad and College Authority in shaping his career as a National Medalist.