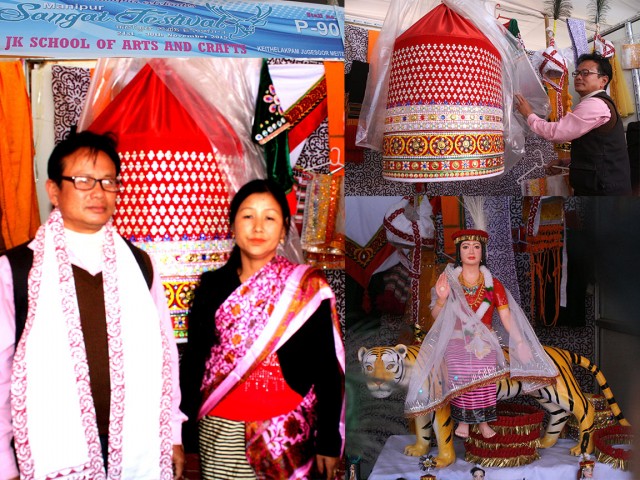 Enchanting the crowd at Manipur Sangai Festival 2015, JK School of Arts and Crafts, a stall which exclusively displays the traditional handmade dolls and craft items, is promoting Manipuri culture and tradition to the visitors.
Different dolls which showcase Manipuri culture and tradition such as Krishna, Gauranga, Khamba Thoibi, Panthoibi made of plaster of Paris and replica of Meetei woman carrying Pheeruk in marriage ceremony are some of the finest artistic works of JK School of Arts and Crafts. Keithelakpam Jugeshor Meitei (50) from Khurai Thongam Leikai is the brain behind the craft school which is imparting training to hundreds of aspiring Artisans in the craft.
Presently, the school is giving training to six women. Jugeshor is a great exponent who contributes his best part to promote and preserve Manipuri traditional art and culture. He is a traditional folk singer, a make-up artiste and also a dance artiste of JN Manipur Dance Academy. Apart from making dolls, he also designs Potloi worn by a bride during marriage ceremony of Meetei community.
He completed diploma in make-up and dance in 1993 from JN Manipur Dance Academy. The Artisan is taking up the craft with the support from his wife Keithelakpam Ongbi Nganthoi who is also a Potloi designer.
He said that customers come to his house to buy traditional dolls and other craft products as gift items and toys for children.