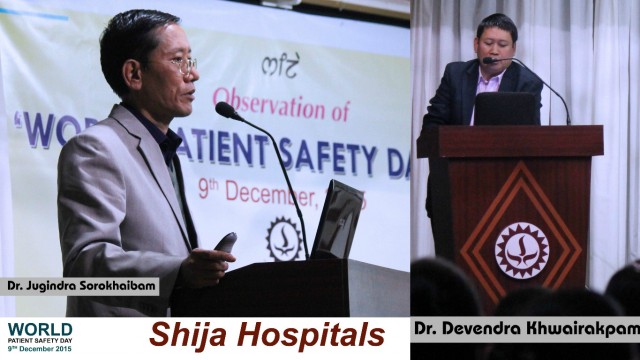 December 9, 2015: World Patient Safety Day was observed on 9th of December 2015 at Shija Hospitals & Research Institute (SHRI)Pvt Ltd, Langol. Dr. Devendra Kh, Consultant General and Laparoscopic Surgeon, SHRI, presented on Surgical Safety measures for patients.He emphasized on the magnitude of impact that adverse events can cause. Strict compliance to pre-defined protocols and following surgical safety checklist advised by WHO is key to avoiding surgical errors. "Safety of patients is everyone's business", he said, including all levels of healthcare providers, patients and their families.
Dr. Kennedy T, Consultant Anesthesiologist and Critical Care Specialist, SHRI, presented on Medical Errors with the gathering. Preventable medical errors, its incidences and how to avoid them were highlighted. He stressed on the importance of the management of all healthcare institutes to encourage reporting of events even if it is a near miss event which has not caused any harm to the patient in order to avoid such errors in the future. Avoiding abbreviations and writing legibly by health care professionals will also contribute towards preventing errors, said he. He drew attention of the gathering towards a culture of safety to be practiced and embraced by all.
Dr. Jugindra S, Director Medical Services, SHRI, spoke on the current practices and initiatives of Shija Hospitals to ensure Patient Safety. He shared that patient safety does not end with creating policies and protocols but is a continuous process of complying with protocols day in and day out during daily medical practice. Shija Hospitals is working towards accreditation by National Accreditation Board for Hospitals and Healthcare Providers (NABH), he informed. It may be mentioned that Shija Blood Bank & Transfusion Services is accredited by NABH and the hospital based laboratory is accredited by National Accreditation Board for Testing and Calibration Laboratories (NABL)
The observation of the Patient Safety day was attended by Consultant Doctors, Resident Medical Officers, Medical PG Students, Nurses, Nursing students and administrative staff of the hospital. In his closing remarks, Dr.Palin Kh, Chairman cum Managing Director, SHRI said that Patient Safety is of paramount importance in developing trust of the patients and eventually developing medical tourism in the state to attract patients from neighboring states and countries.